Baseball Beats Urbana To Win Third Straight Title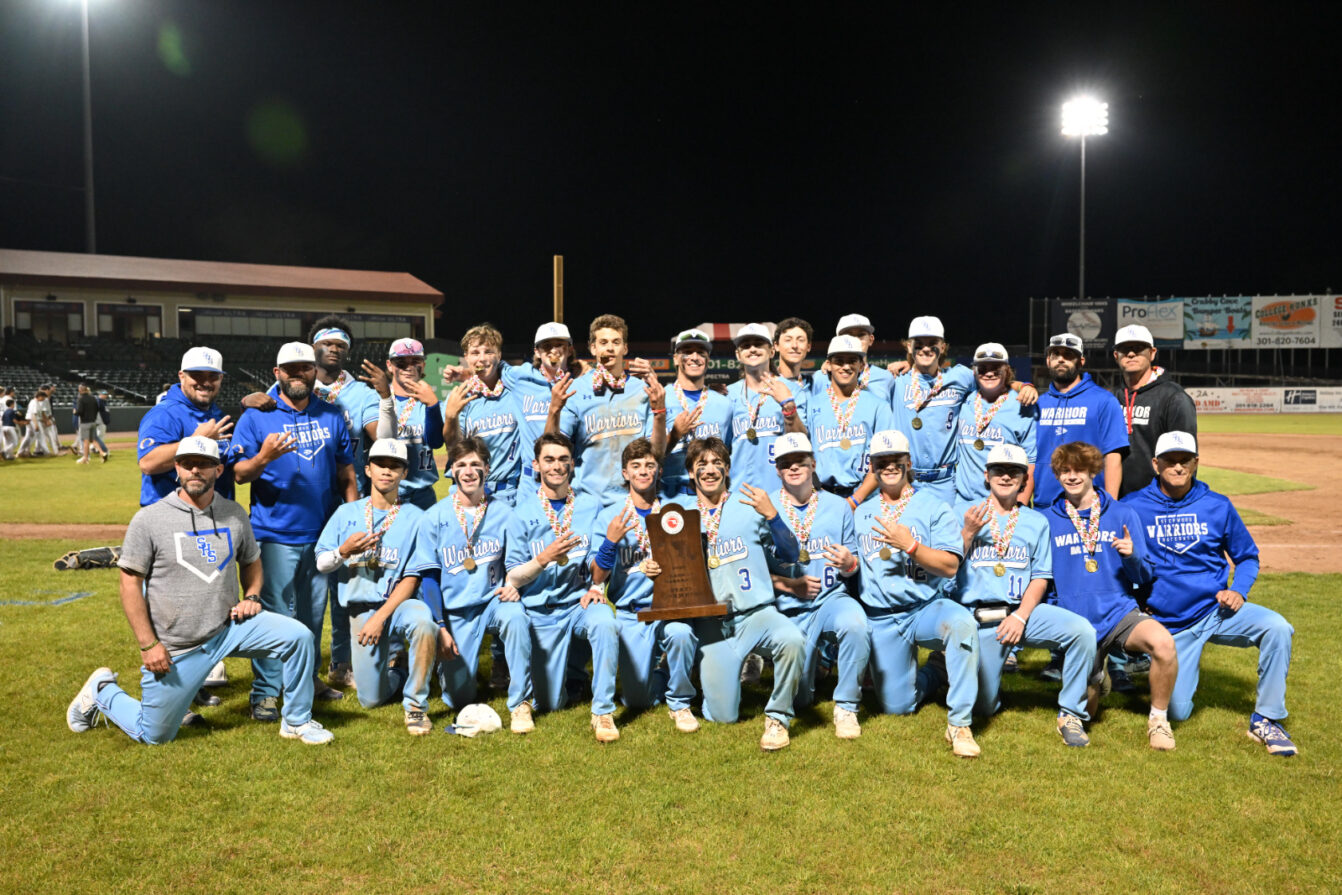 Sherwood's baseball season started and ended with victories over Urbana from Frederick County. The Warriors beat the Hawks 13-2 on March 21 but the second win by a score of 7-4 will be much more memorable for the players. That victory came on May 26 giving the Warriors their third consecutive 4A state championship. Senior Brian Scott didn't let the pressure of the title game get to him as he went 3 for 3 with a total of 2 RBIs that included a leadoff home run. Scott also came in relief on the mound and pitched three strong innings to get the save.
"I was just able to be relaxed and aggressive at the plate at the same time, making me able to get it done," recalled Scott. "[When pitching] I stayed calm and composed and tried to make them beat me by attacking them with fastballs over the plate while relying on my defense to back me up and we got it done."
Thanks to Scott's home run, the Warriors jumped out to an early lead followed by 2 more runs in the second inning. By the fifth inning, they were up 5-1 due to an errant pickoff throw and never let up. Thanks to a 7 strike-out performance by junior Mac Crismond, 3 runs being scored by sophomore Jacob Bagania, and incredibly strong production from many other players throughout the game, Sherwood became the first high school in Maryland state history to win three straight baseball titles at the 4A classification.
"I was never concerned with our team's mindset," said head coach Sean Davis. "I am aware of how hard it is to win and really wanted this team to go out on top."
The Warriors' journey wasn't easy, however. After the reseeding for the final 8 of the 4A bracket, Sherwood landed at the number 2 spot and faced Perry Hall in the quarterfinals. Despite being a 7 seed, Perry Hall put up a strong fight against the Warriors until the end. Seven strong shutout innings pitched by Crismond gave the team a chance to win in the bottom of the 7th inning. With the bases loaded, junior Gavin Hughes hit a walk-off single to end the game by a score of 1-0.
Sherwood's next challenger came against Severna Park who they mercied in last year's finals. Severna Park's strong regular season performance led them to the number 3 seed in the playoffs. Sherwood senior Ben Berger started the game on the mound and pitched three innings of two-run ball. Along with pitching, Berger led the team with 3 RBIs and a key double to help the Warriors to a 9-2 victory. Seniors Amari Allen and Brian Scott also factored into their win. Scott came in relief of Berger to pitch and Allen had an important RBI double which helped to rack up more runs.
"Our mindset was to attack fastballs early in the count and put pressure on the pitcher and defense," said Berger. "We did a great job of doing that so I was proud of everybody for how we played."