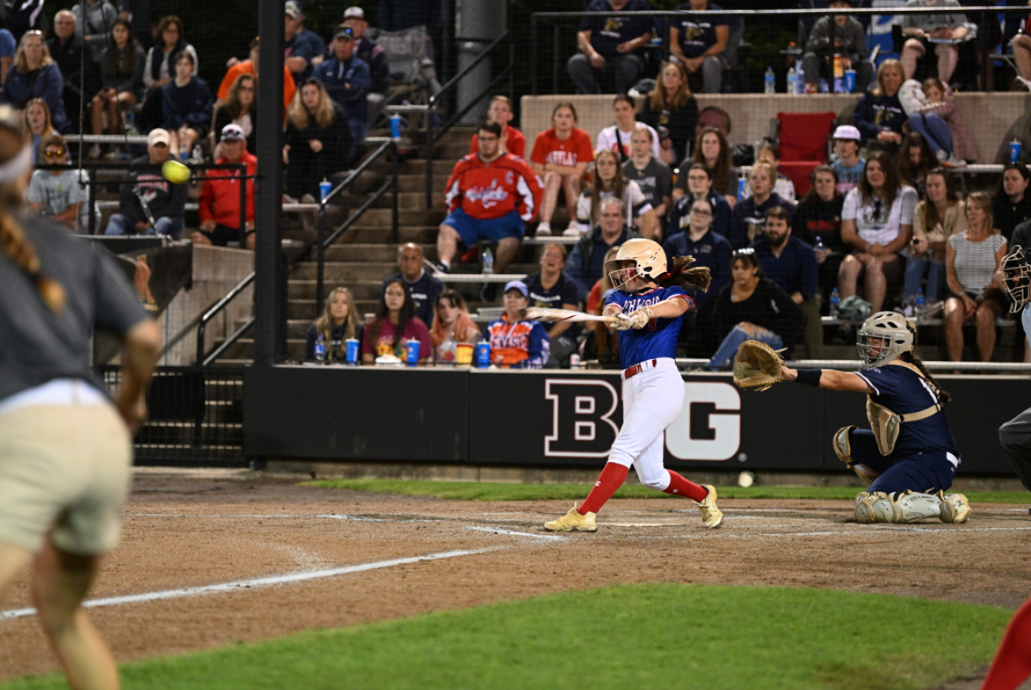 Softball Takes Aim at Another State Title with Repeat in Mind
by Maggie Reese '24
The softball team enters this season missing some of their biggest stars from last year's state-championship team. Among other starters who graduated, Emily Siansky now plays for Division III at St Lawrence and Holly Rogers is at Montgomery College. Despite the loss of talent, the softball team has proven over the past decade that it can reload to always be a top contender for another state title.
"We lost some key seniors from last year, so every player on the team will need to step up and fill those roles," said senior Brenya Schlutz. "Specifically, all of us seniors will need to step up as leaders and younger players will need to fill key positions like third base and right field."
This season the Warriors are looking to return to the state final game after winning their 7th state championship title last spring. "We make sure we're extremely focused at practice because we know that winning state again isn't going to be handed to us," said senior Katrina Hanson. "We know that in order to get another title we have to push ourselves at practice." With their first game against Urbana on March 21 at home, the toughest games for the Warriors this season look to be Damascus on May 4, and Clarksburg on May 6. Come see your Lady Warriors this season on their road to repeat the success from last spring.
Track and Field Optimistic for Upcoming Spring Season
by Alex Lacey '24
The outdoor track and field team returns a wealth of outstanding talent this season, including seniors Jack Link, JJ Singleton, and junior Leo Cantor, among others. Despite their prowess, the track and field team has struggled in States, scoring only one point last year when Link finished eighth in the high jump event with a leap of 5'10.
"On the 4×100, we just need one more piece but we can get it," stated Cantor, who was a member of the relay that finished 15th at States last year. Strong returning distance runners such as Singleton, junior Sean Gravell, and senior Emily Zanni also will increase the Warriors' chances to qualify for more events at States.
Key events this season include the Gator Invitational Meet on April 29 and the Katie Jenkins Invitational on May 6.
Girls Lacrosse Striving towards Another Appearance in States
by Dylan Sondike '24
After appearing in the 4A state semifinals last year, the girls lacrosse team will look to match that feat again or go even further. The Warriors will be tested tremendously this season as they will be without former star player, Brooke Walsh, and their four starting defenders, who all graduated last year. The team will rely on younger players to step up throughout the entire season.
"My juniors make up most of the team," said Coach Kelly Hughes. "They will need to manage their games with patience and show leadership in the way they handle the pressure. My seniors on defense will be hopefully vocal and calm."
Hughes noted that juniors Emma Walsh, Alexa Lyons, Savannah Weisman, Dani Watson, and sophomore Avery Graham will play key roles in the upcoming season. If the team can move the ball and score effectively in each of their games, they are positioned to go far into the playoffs once again. "I think that if we really work on our team play and find a way to connect, we have a really good chance at going as far as last year," added Hughes.
The Warriors open their season at Urbana on March 21 and have their first home game on March 23 against Damascus. They will face their biggest challenges towards the end of the season when they visit B-CC on April 19 and against Walter Johnson on April 26, two of the counties strongest teams.
Boys Lacrosse Overcoming Loss of Graduated Seniors
by Carter Braun '23
A 14-3 season last year gave the Warriors hope that they could reach the 4A state title game for the first time in school history, but after a tight 10-8 loss in the state semifinals to the eventual state champions Churchill, the Warriors saw 16 seniors graduate. However, the Warriors return many star players such as senior attacker Drew Stahley (All-County 1st Team) and senior midfielder Jackson Derrick (All-County 2nd Team). In addition to just Stahley and Derrick, the team returns sophomore attacker Andrew Cavanaugh (1st Team All-County), junior midfielder Alex Lacey (1st Team All-County), and junior goaltender Cooper Hawkins (2nd Team All-County).
"Underclassmen and first year starters will have to rise to the occasion this year for us," said Derrick. "With two of our starting defenders graduating, and our other one being lost to an injury, junior Adam Masiky will have to step up big on defense and become a leader in order for us to have success this season."
The Warriors will surely have an uphill battle to face this season if they want to continue their previous success and make another long run in the playoffs. Yet, the team has been on fire to start their preseason, cruising to wins over Richard Montgomery and Glenelg Country Day, and then beating River Hill and losing a tight one to reigning 2A State Champions Kent Island, located in Queen Anne's County. Despite the loss of graduated seniors, the Warriors have shown no signs of regression and are one of the true contenders, yet again, to take home a State Championship this year.
Baseball's Eyes Set on Three-Peat
by Evan Joseph '23
Boys' varsity baseball has high hopes for this year after coming off a 4A State Championship win last season. After beating Severna Park 11-0 in the title game in 2022, the Warriors will return key players such as seniors Ryan Bouma, Jack Andre, Ben Berger, Amari Allen, Brian Scott, and junior Mac Crismond. But a main challenge this year will be replacing the production of the players the Warriors lost to graduation like Jake Shalvi, Alex Escanilla, Dan Combs, Dylan Hughes, Leo Whalen, Scott Ervin, Niko Pernie, and Josh Hollowell.
"We have the talent to repeat but it won't be easy. There are a lot of talented teams in the 4A," said Coach Sean Davis. "We have a lot of players back but we are still figuring out where the younger guys fit in. Team chemistry is a very important factor."
The key to success for this year's team would be to play through their stars. The current team has multiple future college-level talents that should take the Warriors deep in the playoffs, including Frostburg State commit Ben Berger (pitcher), Maryland commit Brian Scott (outfield), Chipola commit Amari Allen (pitcher/first base), and pre-season all-state selection and Frostburg State commit Ryan Bouma (third base).
The Warriors opened their season at home on March 21 against Urbana. Early season matchups against Northwest and Churchill should both be great tests to see where the Warriors are as they embark on their quest for repeat championship.
Boys and Girls Tennis Looking To Ace This Upcoming Season
by Lauren Frank '23
This season will certainly test both the boys and girls teams, as many star players from last year have since graduated. Nevertheless, both teams have a solid roster with a mix of new and experienced players, many of whom are underclassmen and returning senior players. With enough practice and consistency, both teams are hoping to win regionals and qualify for states, with at least one doubles and one singles.
After previously coaching the girls team for several seasons, Coach Michael King, a social studies teacher, is now in charge of the boys team after the previous coach retired. First time Sherwood tennis Coach Rebekah Byerly, a math teacher, is now taking over for the girls team. Both coaches are eager to begin training for the long road of competition heading their way.
"We have some high end Division I matches against Blair, RM, WJ and Wootton," King said. "I personally don't believe in looking at matches that are likely to result in wins, but we are going to approach every match on our schedule with a goal of playing our best."
Senior Lizzie Abel, who's one of the girl's team captains, played singles last season and goes into this season as the top singles player. "Last year our doubles team got pretty far in the county championships, and for this year I'm hoping we can win regionals and maybe even go to states."