Simplicity of Sports Betting Leads to Increase in Sherwood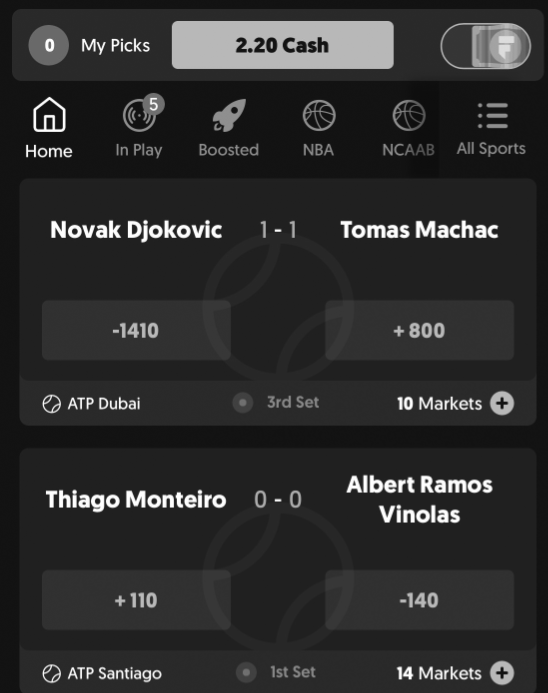 by Noah Bair '24 and Carter Braun '23
At the end of last year, in the first full month of legalized sports betting in Maryland, the state saw almost $500 million wagered across all platforms. Since betting companies want to introduce potential gamblers to the industry, many implemented promotions when customers first register with a gambling app. Some of these potential incentives included better than normal odds on wagers and increased payouts. As a result of these promotional bets, $70 million was spent by new gamblers being introduced to the betting industry. While the state requires bettors to be at least 21 years old, there are still alternatives that those under the legal age can use to scratch their gambling itch.
One that has risen in popularity throughout the country in recent months, but also in Sherwood, has been the app Fliff Sportsbook. Fliff is distinct from other wagering or gambling apps in that it does not require the user to pay money to make wagers. The app gives users one dollar for free every day, until the user reaches $5 total, which can be used to place wagers without ever having to deposit any real money. Since it's not required that customers deposit money, Fliff is given the designation of a "sweepstakes" app rather than an official gambling app. Because of this, users don't have to input their social security and credit card information into the app (unlike official gambling apps), and people of any age can use Fliff.
While Fliff customers are allowed to place wagers and accrue winnings, they're not allowed to deposit the money into a bank account until they're at least 18 years old. While it's against Fliff's terms of service, the app allows users to bet for years and stack up winnings and then deposit everything once they're 18. Realistically, this amount can be anywhere within the $50-$250 range. This phenomenon has caught on in Sherwood, with many students using Fliff for what seems like a harm-free way of betting and not losing any money since it's possible to lose everything but still earn free money from the app every day.
Senior Tyler Lynch is one of many students who have become hooked on the app in recent months. Lynch placed bets throughout the day, checking them hourly, explaining that "…the app gave me something to do when I was bored. I could use the money the app gives me and put it on a game going on, and then I could go watch that game. It was used for entertainment purposes, not to make a living."
While it may be marketed as "just for fun," increased advertising and exposure to betting commercials have teens like Lynch being exposed to gambling on a daily basis. Betting apps are hook users by offering them incentives to join by making wagers seem easy to win and profitable, but incentivize depositing more and more money into the app to bet as time goes on.
Sophomore Zach Harris has also been introduced to Fliff in the last months. Although he is only 15, he still places multiple bets a day, ranging from the Super Bowl all the way down to various semi-pro tennis tournaments. "Placing these bets keeps me energized, and makes watching sports more entertaining," he explained. Even though he's three years under the legal age to bet on Fliff, Harris is able to bet using the app because he says they "…don't know I am 15, and it is easy to lie in the app because they don't ask for your Social Security number or birth certificate until you want to cash out. So, I will wait until I'm 18 years old and have all this money saved up and then cash out."
With betting on the rise, the number of people that have become addicted grows as well. The National Problem Gambling Helpline Network has seen a 45-percent increase in the number of calls to their helpline in the past year. This number is only expected to rise, as March sees one of the highest amounts of money wagered of any month with the NCAA Tournament going on. More than $375 million was wagered on the college basketball tournament two years ago, and with the sports gambling market expanding, experts predict more than half a billion dollars could be gambled on this year's March Madness. While gambling money might not be for everyone, filling out NCAA Tournament brackets are very popular even among casual sports fans. Nearly 80 million brackets are filled out every year, predicting the winners of each of the 63 games. While the odds are about one in 120 billion, millions of fans each year test their luck to see if they can fill out the perfect bracket.
Friendly betting like these tournament brackets start as harmless, but can lead to the first steps on a path to a gambling addiction. The average person's brain doesn't develop until they're at least 25 years old, and if teenagers see gambling as harmless and risk-free when they're adolescents, they are at risk of developing a gambling problem once they have an income and their own money to wager with no limitations.
With Maryland's Director of State Lottery and Gaming Control Agency Director John Martin expecting that the state's sports gambling program "will contribute approximately $30 million per year to the State of Maryland," there are no signs of sports gambling in Maryland slowing down. Even with apps like Fliff where teens don't lose any money, everyone needs to be aware of when wagering goes from harmless fun to a risk for themselves and others. With constant exposure to advertisements, gambling companies work to hook teenagers and adults alike. Teens need to be aware of their habits, be vigilant, and know what their limits are when gambling to keep themselves safe.