High School Lacrosse Rankings Favor Private Schools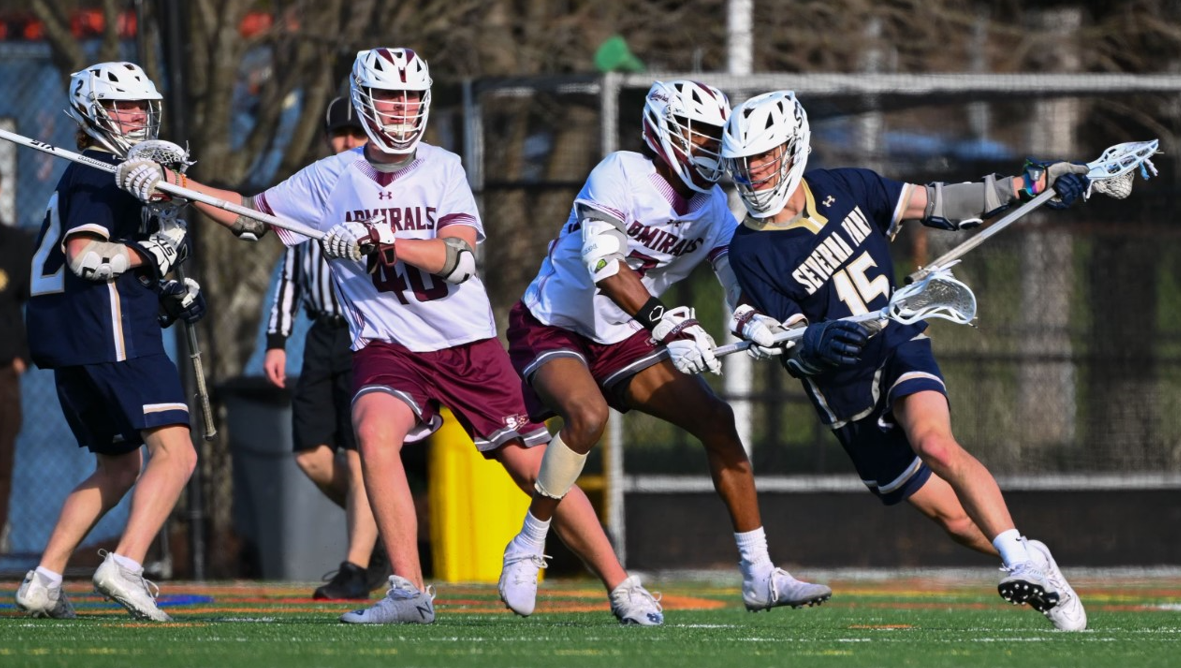 by Alex Lacey '24
Maryland is well known for being a lacrosse hotbed, and it's even the state's official team sport. So it's no surprise that the University of Maryland Terrapins have won 11 national championships on the men's side and 15 on the women's side since lacrosse became a NCAA-sanctioned sport in 1971. From pro players down to the youth level, history speaks for itself. However, inequities have emerged over the sport's long history in Maryland. Although the rest of the state has closed the gap with the Eastern Shore in producing talented lacrosse players, there is a notable divide in the level of reputation and respect between private and public high school lacrosse programs in the metropolitan D.C. area.
In the previous two years, the DMVLACROSSE preseason top 10 has exclusively included private institutions, with the top 20 containing no more than four or five public schools. The disparity in high school rankings is unlikely to change. Most public schools are not even mentioned on Inside Lacrosse. MaxPreps is much the same, with only private schools in the top 10 last year and one public school in the top 15.
Top public schools like Churchill, Sherwood, Severna Park, and Kent Island continually are ranked far lower than average private schools such as Severn School, Gilman, St. Albans, and Episcopal in previous rankings by websites. Despite several losses to unranked schools, private schools like SJC, Gonzaga, and Georgetown Prep remain in the top five due to historically winning seasons.
Part of the reason for the dominance of private schools in local rankings is that lacrosse remains an elitist sport; those who play it tend to be privileged. The Haudenosaunee tribe of Native Americans invented lacrosse but despite its humble origins, lacrosse on the East Coast, specifically in Maryland, is not very diverse. This holds especially true at private schools that have more funding and resources and therefore better lacrosse facilities.
But this does not always mean that private schools have all the best lacrosse players. Eliot Dubic (Maryland), Rory Sullivan (UMBC), and Matthew Popeck (St. Joseph) are all Maryland public school athletes who star in Division I. Yet, several notable private school players, such as Paul Rabil, one of the best players of all time, went from Watkins Mill to Dematha for better recruitment. Similarly, Billy Dwan, a defenseman from Lutherville, played at the private school Loyola Blakefield, and is currently at Syracuse. In Maryland alone, there are more than 1,250 current college lacrosse players, with more than 380 of them competing at the Division I level. Of those players, however, 70-80 percent come from private schools.
College coaches focus on private schools to stay ahead of the competition in recruiting and to see more recruits at any given game. On the one hand, this makes sense for a college coach to attend a game between two private schools that might have as many as 10 collegiate recruits on the field. However, such an approach might overlook that great player who is going largely unnoticed on a public school team that isn't loaded with other top talent. In this sense, it is not clear if private schools simply have the majority of the best players or if those players have more visibility by attending those schools.