AP Class Caught in Middle of Culture Wars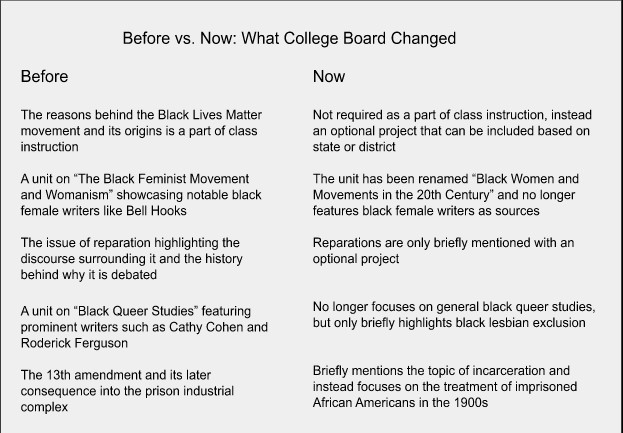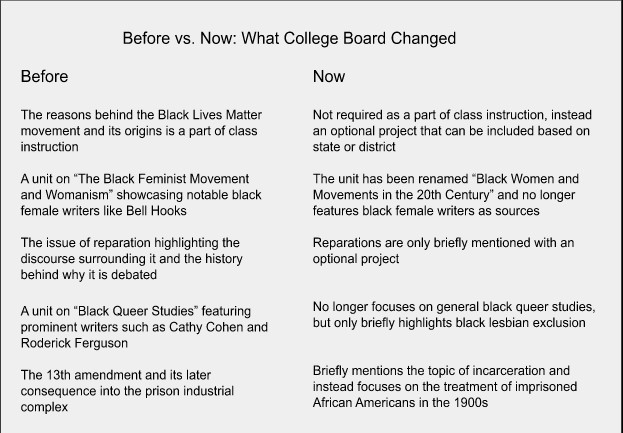 by Alexis Booker '23
The College Board, which creates and administers courses and exams, has recently been embroiled in a conflict with Florida Governor Ron DeSantis over its new AP African American Studies curriculum. DeSantis, who last April banned "critical race theory" in Florida middle and high schools, spoke out against the AP course this past January, claiming it "pushed an agenda." Shortly thereafter on February 1, College Board released a revised curriculum for the course but stated that complaints from DeSantis did not influence the changes.
However, many were skeptical of this claim after the Florida Department of Education released information regarding a set of emails between it and the College Board in which Florida officials criticized multiple aspects of the proposed curriculum for the AP African American course. At the time, it had been piloted at a few high schools around the country. College Board later followed with a statement at the end of January saying the alterations were not because of DeSantis's threats against not allowing AP African American Studies to be taught in schools in his state. Ultimately, DeSantis will decide whether to approve the course to be taught in Florida schools.
The College Board has since released the changes to the course, which primarily makes certain parts of the curriculum optional, such as readings and lessons about Black Lives Matter Movement, black queer history, reparations, and mass incarceration. The changes have also removed primary source material by black authors like Bell Hooks, Angela Davis, Roderick Ferguson, T Coates, and Leslie Kay Jones. Since College Board has made these alterations, the Florida government has become more receptive towards the course. "We proudly require the teaching of African American history. We do not accept woke indoctrination masquerading as education," said Manny Diaz Jr., Florida commissioner of education in a statement.
"It's Jim Crow education. These [authors] are the major thinkers in the 21st century," said Ohio State University Professor Hasan Kwame Jeffries in response to Florida's arguments against featuring different topics and authors, in a New York Times interview. "They are not optional for understanding the Black experience and the American experience, past and present. They are foundational. They are some of the best thinkers we have. And they should be front and center." Jeffries goes on to say that the content of the original course is good; however, making certain parts optional creates a disconnect between past and present issues. He claims that by watering down the curriculum, the message loses its impact and minimizes its importance.
DeSantis has since escalated the situation, threatening to no longer offer any AP course in the state of Florida. This angered many students and their families. AP courses add rigor to a student's education, making them a more competitive applicant for college. Along with that, if students score well on their AP exams, they can opt out of certain college courses and use their AP credits from their tests instead. This can save up to thousands of dollars spent on a college education, and without it, Florida families would have to pay more.
The situation between DeSantis and the College Board continues to simmer, and other Republican-led states are looking to join the fight. Many Virginia and Texas students now worry that the African American Studies course will not be offered in their states. Virginia education officials have begun reviewing the curriculum, and students in Texas worry that governor Gregg Abbott will consider a ban as well. Progressive groups believe that College Board has bowed to political pressure with more than 30 LGBTQ+ organizations calling for the CEO of College Board David Coleman's resignation for a lack of transparency during the controversy. As of now, the course is set to be available in the majority of U.S. high schools as early as the 2024 school year.