Midterm Aftermath Murky as Democrats Keep Senate, Lose House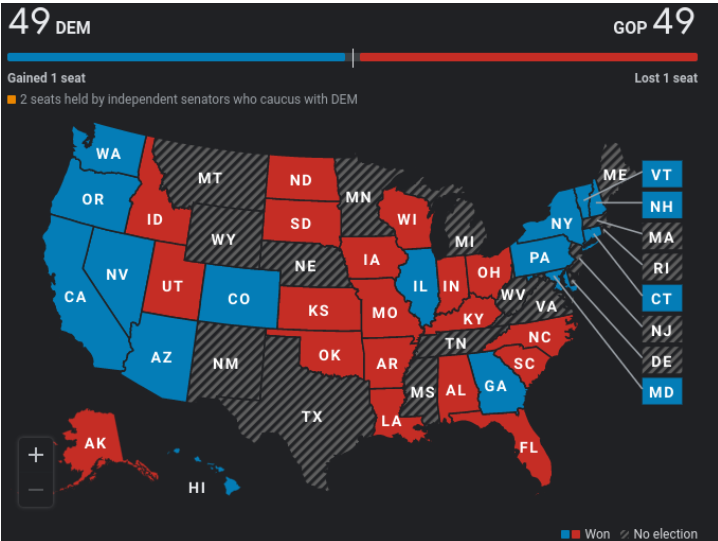 by Matt Kauffman '23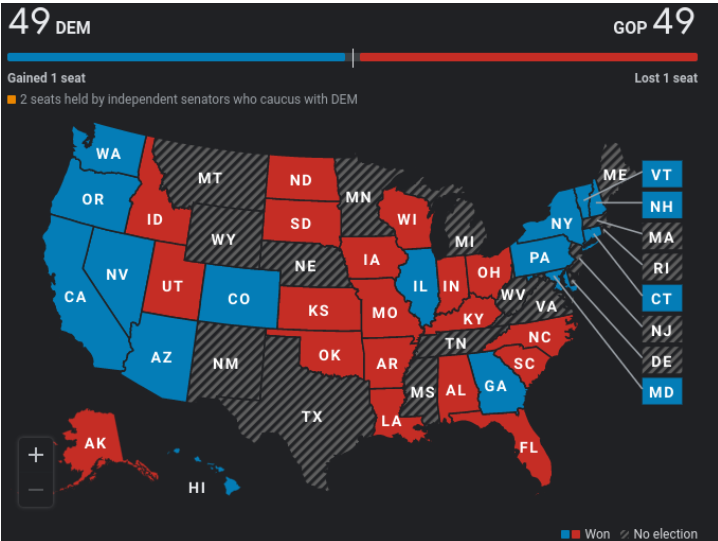 The projected "Red Wave" of Republican winners in the 2022 midterm elections fell short of previous predictions, with GOP candidates underperforming in both chambers of Congress as Democrats maintained slim control of the Senate with a 51 to 49 margin after Raphael Warnock's runoff victory in Georgia, and the Republicans gained a slight majority in the House, flipping nine Democratic seats and taking a 222-213 seat majority.
Trump-endorsed candidates and those who campaigned on election-denialism generally performed poorly, offering a possible referendum on Trump's influence within the party and over politics at large. According to New York Times reporter Nate Cohn, "The pattern is that the Democrats do very well in states where abortion and democracy really was on the ballot. And the Republicans do pretty well when it's not." 
In Michigan, for example, where there was a referendum on abortion rights, Democratic governor Gretchen Whitmer was reelected, and Democrats won every contested House race and flipped the state assembly. In Pennsylvania, election-denying GOP gubernatorial candidate Doug Mastriano lost by a wide margin to Democrat Josh Shapiro, and television doctor Mehmet Oz, running as a Republican, lost to Democrat John Fetterman, who suffered a stroke in the spring.
In Maryland, Democratic nominee Wes Moore trounced Trump-endorsed Republican Dan Cox, winning over 64 percent of the vote and becoming the state's first black governor. Moore ran on a platform of progressive change. "We're not in this race to make history," he said. "We're in this race because we have a unique opportunity to make child poverty history … We have a unique opportunity to make the racial wealth gap history."
Maryland Senator Chris Van Hollen was reelected, and Andy Harris was the sole Republican winner of a House seat after his victory in Maryland's 1st Congressional District, which encompasses the state's area east of the Chesapeake Bay. Montgomery County Executive Mark Elrich, despite misgivings about his handling of the Covid-19 pandemic and his decision to close county schools, fended off businessman David Blair in the primaries and beat Republican challenger Reardon Sullivan in the general election.
After Republicans clinched control of the U.S. House of Representatives, Minority Speaker Kevin McCarthy (R-CA) is poised to become the next Speaker of the House. McCarthy vowed to remove Democrat Ilhan Omar (MN) from the House Foreign Affairs Committee for "repeated anti-semitic and anti-American remarks." He caught backlash from Omar and Democrats for this statement and others regarding potential changes to Congressional committees and his desire to investigate the January 6 Committee. 
Current Speaker Nancy Pelosi (D-CA) announced that she would not seek reelection to party leadership. New York's Hakeem Jeffries (D) was elected as the House Minority Leader, Katherine Clark (D-MA) was selected as minority whip, and Pete Aguilar (D-CA) will be the chairman of the Democratic caucus. 
The future is ambiguous as lawmakers prepare to venture into the world of gridlock that comes with a divided Congress and streakily unpopular president. Many within the Republican caucus have been slowly distancing themselves from Trumpism in an attempt to balance conservative politics with less extreme, more tolerable rhetoric.