Warriors Bounce Back with Three Consecutive Wins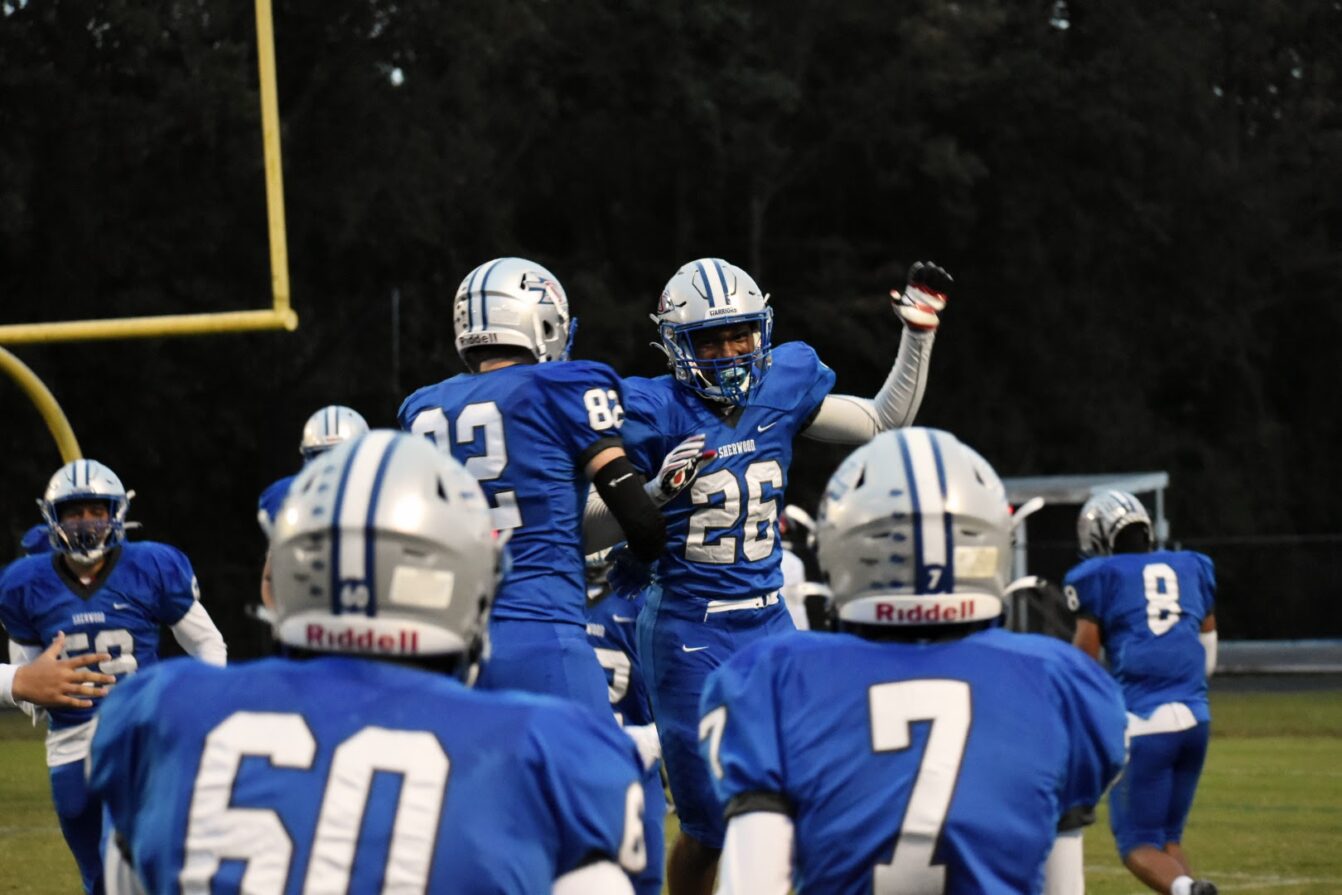 by Carter Braun '23
After Sherwood suffered an embarrassing defeat against  Frederick County's Urbana, many questioned if the Warriors were going to be as strong at the state level as they've been in years past. But, after a nail biting last-second win against Blake, a trouncing of a decent Einstein team, and a shutout win on Homecoming night against Northwood, the Warriors are looking like threats to win the region for the second year in a row. 
After an expected 36-0 rout of Wheaton, the Warriors faced an early challenge in a stout, experienced Urbana team on September 9. The game started off slowly for the Warriors and it never sped up. Sherwood lost 40-3 in a blowout, giving up 249 passing yards and five passing touchdowns. "The loss was about as embarrassing as they come," said Coach Andrew Fields. "But our kids came back to practice on Monday and worked to get back on track. We are young, and where we're not young we are inexperienced. We are a work in progress and improving each week."
A week later, Sherwood faced their cross-town rivals, Blake. In a game that started out 21-0 in Sherwood's favor, the lead quickly evaporated and the Warriors found themselves tied at 21 with three minutes remaining in the fourth quarter, needing to force a stop against a Blake team with momentum. "We knew we needed a stop because it was a must-win game," said senior cornerback Jace Muñoz, a leader of the defense. "I think pride was the biggest motor for us and gave us an extra push. We couldn't lose to our rival school." 
The defense stepped up and forced a Blake punt. After this much needed stop, senior quarterback Amari Allen had 56 seconds on his own 30 yard line needing any points to win. After a 40 yard run of his own, the drive stalled, and only five seconds remained. Coach Fields dialed up a Hail Mary on what could be the last play of the game, and Allen delivered, throwing a touchdown to sophomore wide receiver Markel King as time expired. 
Following that intense game, the Warriors followed up by dismantling a solid Einstein team 41-6, and in the following week, one-upped that result with a 55-0 handling of Northwood in a game that was never in question. "We've been practicing a lot harder," said senior captain Sam Dickey about what has changed since their loss. "After the Urbana game, guys are going harder and you practice how you play." 
Friday will be a very good test, as powerhouse Northwest, the team that knocked off the then undefeated Warriors last year, hosts Sherwood. Northwest lost 10-7 against Walter Johnson last week, in a game in which they returned to action after their entire football program was suspended for a game after engaging in a brawl at Gaithersburg High School, three weeks ago. Many of their starters were suspended for the game against Walter Johnson, but will return to action against the Warriors tomorrow night.