Super Bowl Dancers Deserve Fair Pay
by Nia Peake '23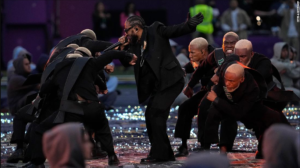 Every year, millions of eager football fans tune into the Super Bowl accompanied by the Pepsi halftime show, which has become its own attraction after 56 years of show-stopping performances. Marrying America's beloved sport with pop culture has been great publicity for not only the artist but for the up-and-coming dancers who arguably make the show. Take this most recent  Super Bowl halftime performance: imagine Kendrick Lamar performing one of his biggest socially conscious songs, "Alright," without the dancers depicting a story in the background, it's just not the same. And yet, in another sign of how performing arts are undervalued in society, many dancers reported that in the weeks leading up to the Super Bowl  they were expected to perform for free.
The volunteer positions were advertised as "field cast performers," which are dancers that perform on the field in front of the stage to elevate the halftime show. Normally dancers from local theaters or drill teams are recruited for these positions, but suspiciously this year, the Super Bowl had contacted professional dancers to partake as field-dancers. Some might argue that if the dancers are not on the main stage, it is justifiable why they are not compensated. Even Super Bowl producers used this defense by saying that field-cast performers weren't learning choreography. Still, dancers from The Weeknd's Super Bowl half-time show last year rebutted that claim and reported that  they were choreographed. It had taken them up until the recent reports about unpaid dancers to realize that they were performing the same thing as other dancers who were getting paid while they weren't. Whether they are professional dancers or not, any performer putting in hours of strenuous work in rehearsals day after day should be paid. It appears that under the guises of the Super Bowl being a notable franchise that racks in hundreds of millions of viewers annually, the exposure alone for dancers is the compensation, which is an idea that is not only dated but is also unethical and needs to be abandoned as it is insulting to dancers.
Ever since dancers exposed the advertisement for volunteer work, the labor union involved in Super Bowl performances, SAG-AFTRA, and the Super Bowl Half-Time show organizers reached an agreement to pay field performers. They will now receive $15 an hour to field dancers but compared to how the typically paid dancers are being compensated, it definitely is considered a small victory as there is so much more to be accounted for when it comes to the fair treatment for dancers and other performing arts.
While one can recognize the NFL's attempt at rectifying its lapse in judgment, you can't help but remember that the NFL is a multi-billion-dollar enterprise  selling the cheapest seats at the Super Bowl for 5,000 dollars. The fact that the NFL would even attempt to ask for pro-bono work seems almost criminal. If anything, this situation is just a reminder of how the wealthy and powerful continue to try to take advantage of "the little guy" and how they want to reap the benefits of their consumers, yet they want to be cheap and cut corners usually at the expense of the ones who actually perform..