Social Media Is Not What It Used To Be
by Nia Peake '23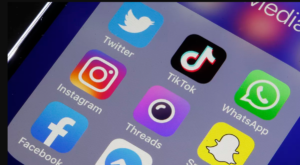 Despite still being one of the most popular  apps and social media platforms in the world, the Instagram we once knew is long gone. Like many niche happenings and cultural developments over time, Instagram has fully succumbed to capitalism, becoming another company turning into the next cash grab. Instagram is arguably one of the most influential social media to make this change into the monetization approach. The once photo-sharing app has reshaped how social media is used and viewed.
Instagram began as a space where people could share photos with friends and toy with the variety of grainy and over-saturated filters the app provided. Thus, the beginning of achieving the "Instagram aesthetic" had come over this generation with everyone infatuated with capturing their life through an aesthetic lens, whether that be picturing your Starbucks up against a pastel-colored wall or a sunset photo from your recent vacation. Instagram was much more light-hearted and genuine when the only worry was curating an aesthetically pleasing feed. 
Now when you scroll through your feed to catch up with your friends and view their new vacation photos, you are met with a #AD in the caption attached with a promotional code for 20% off the swimsuit they are wearing in the photo. Sponsored posts seem to be what all Instagram consists of nowadays and have undeniably made the app less desirable and lose its appeal.
While influencers were taking advantage of their popularity on social media and started to profit from brand deals and selling filter presets, it wasn't until Facebook purchased Instagram in 2012 that it started transitioning into a platform that would focus on allowing internet personalities and companies to market themselves. Within these nine years, Instagram has notably implemented features that have pushed its app in the direction of a marketplace.
This past July, Instagram CEO Adam Moserri announced that the app is "no longer a square photo-sharing app" and would start implementing more entertainment-based features after seeing the success of video entertainment on TikTok and YouTube. Instagram is known for playing copycat when other competing apps excel at specific features and blatantly cloning them into their app. They copied reels from TikTok, stories from Snapchat, and IGTV from YouTube. 
Instagram becoming a one-stop-shop might seem beneficial for consumers, but ultimately has taken away from its humble beginnings of documenting authentic visually-pleasing photos. It is also hard to differentiate whether Instagram is cluttering these features to benefit their consumers for entertainment purposes or to add to its pool of money and help the company advertise itself. From a business perspective, it makes sense why Instagram wants to capitalize off what's popular to expand their audience, but the company showed little effort in catering to users that aren't bringing them in money like influencers.
While social media is always going to be evolving, these lucrative changes in content within these platforms have taken away the personal touch of  social media. It shouldn't be long until another hot new app comes in and sweeps Instagram off its high horse.