Cultural Celebration Week Will Showcase Student Diversity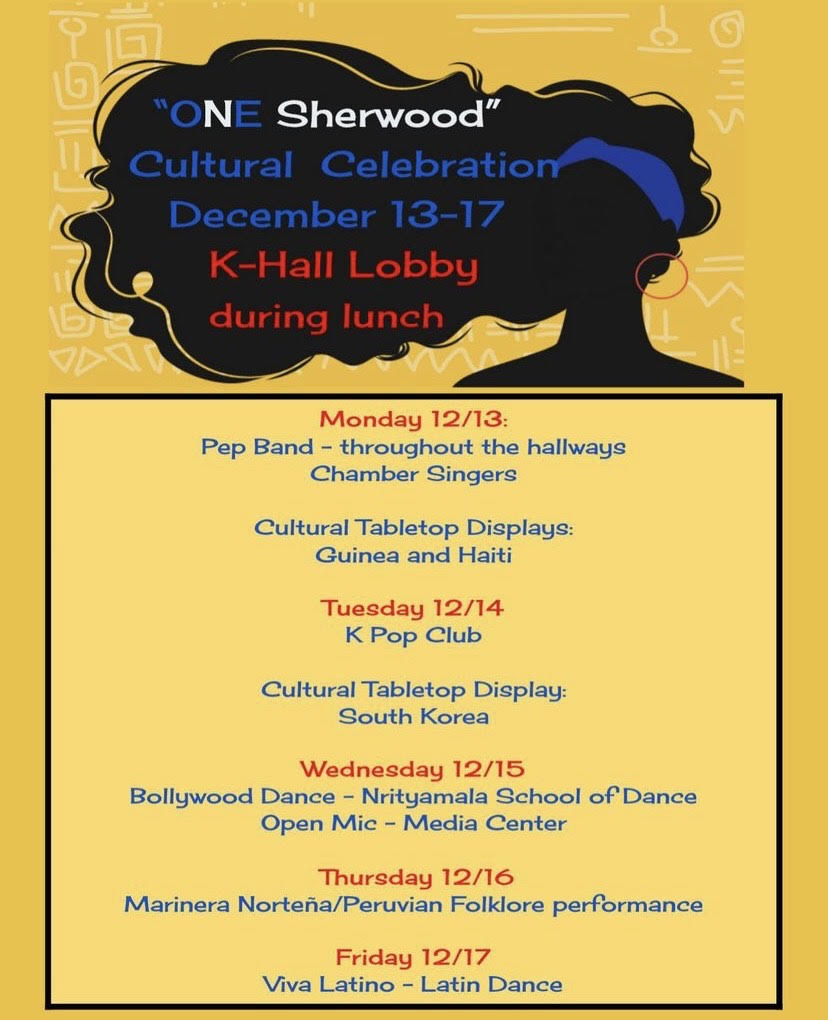 by Yusra Husain and Rachel Klein '22
Sherwood is hosting One Sherwood Cultural Celebration Week during the week of December 13-17. The lead coordinators, Spanish teacher Tanya Aguilar, music teacher Jonathan Dunn, and staff development teacher Catina Wist, are hoping to highlight the diverse set of cultures that unite Sherwood students and staff alike. Although many have perceived this event as a form of Unity Week, the coordi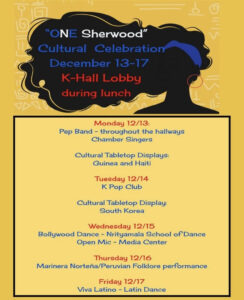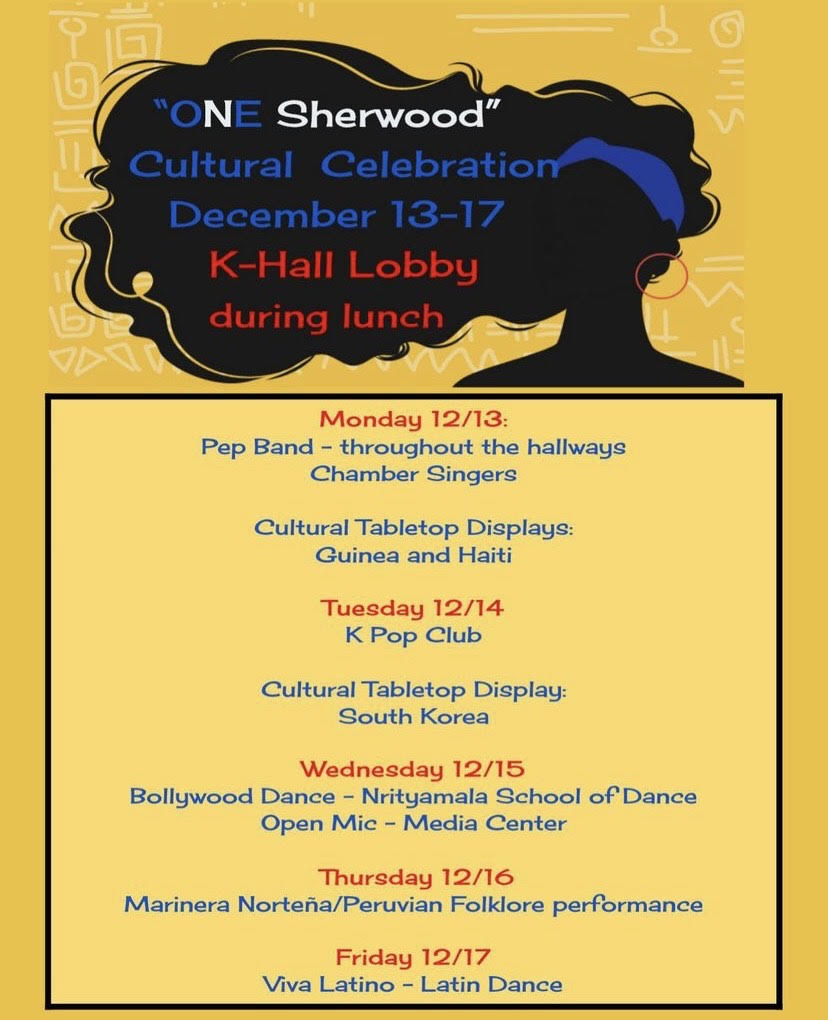 nators have stressed that this is a different celebration meant to bring attention to the diversity at Sherwood.
Every club– regardless of whether it is associated with a culture– is invited to decorate the door of the classroom they meet in. The doors must be decorated by the beginning of school on Wednesday, December 15, and there are guidelines each club must follow. For example, the decorations must include at least one 3D element, no wood from the door can be visible, etc. Furthermore, many cultural groups are going to highlight their identities through a variety of performances during the week rather than holding an accumulative international show, as was done in the past. On Monday, the pep band will play throughout the hallways, and there will be cultural tabletop displays from groups exhibiting the cultures of Guinea and Haiti. On Tuesday, there will be a performance by the K-Pop Club and a cultural tabletop display about South Korean culture. Wednesday provides an opportunity to see a Bollywood dance performance by the Nrityamala School of Dance, and there will be an Open Mic event in the Media Center. On Thursday, there will be a folklore performance displaying the Norteña/Peruvian culture, and on Friday, Viva Latino will be performing a Latin dance for everyone to observe and enjoy. All of these activities will occur during lunch in the K-Hall lobby. 
Despite the fact that many seniors and staff are comparing the upcoming Cultural Celebration Week to Unity Week, a momentous event that occurred at Sherwood in 2019, Aguilar and Dunn have stressed that the two are unaffiliated with one another. While the occasion in 2019 was an idea driven by former principal Dr. Eric Minus, One Sherwood Cultural Celebration Week is an idea by Principal Tim Britton that aims to celebrate, spotlight, and appreciate the various cultures at the school. Whereas Unity Week was led by initiatives and support from teachers, Cultural Celebration Week is mostly student-driven. Additionally, Unity Week was an expansive event that included disparate activities such as food trucks and the assistance of external parties, but Sherwood lacks these luxuries this year due to the pandemic because of constraints from MCPS and CDC guidelines. "It's a different celebration at a different time that will still highlight the different people here and bring it to people's attention," explained Aguilar.
The decision to hold the event in the winter rather than in the spring (as was the case with Unity Week) is partly due to the recent events that Sherwood has been grappling with. While Aguilar had already approached Britton about hosting the international show before the incident with Einstein High School, the administration decided to organize a week's worth of activities in order to refocus, rebuild, and remind the community about the diversity of our school and student body. When it comes to combating the challenges that the Einstein fallout revealed about Sherwood, the coordinators expressed the importance of youth taking initiatives to have discussions and educate others, which is why the Cultural Celebration week is primarily student-driven. The administration hopes to restore the environment in which things can keep moving in the direction where everyone has a home at Sherwood. 
"I don't think, nor am I naive enough to think, that the One Sherwood Cultural Celebration is going to be the thing that heals all wounds. But it is a vehicle to at least create a conversation and become a point of reference that reminds people of our humanity and the value we bring to our place in the community," said Dunn. 
One Sherwood Cultural Celebration Week essentially aims to inform students about what Sherwood seeks to be as a community by understanding and appreciating what makes us One Sherwood. Dunn conveyed that "there has to be moments where people of all ethnicities get behind something because it's the right thing to do." This is one of those moments. 
This week is a great opportunity for all students and staff to learn about different cultures and spread positivity, so make sure to check out all of the celebrations in the K-Hall lobby next week during lunch!