College Students Are Sharing Rooms with Black Mold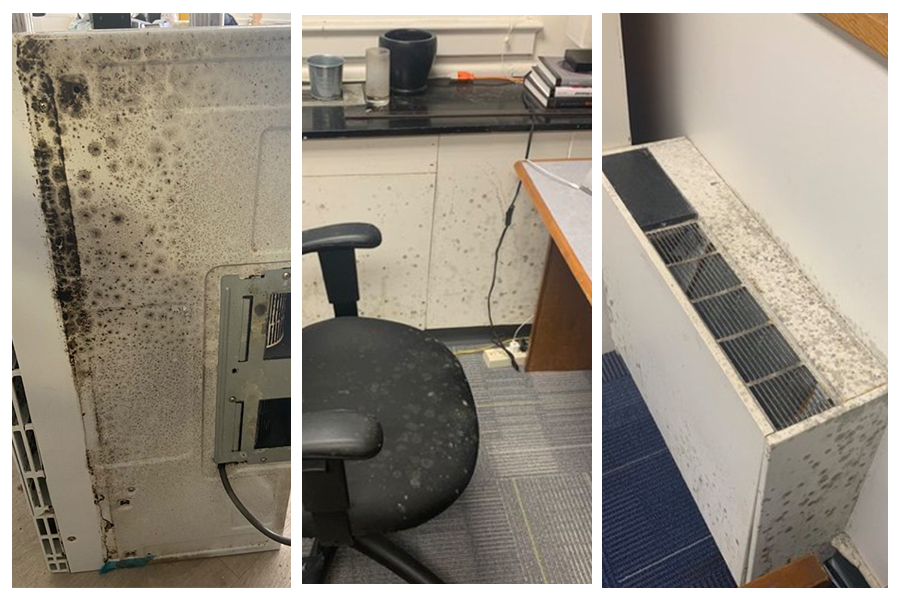 by Lizzy Hermosilla '23
Black mold can be easily detected with its musty and earthy smell along with its black spores that can appear on everything from walls to shoes. For the mold to thrive all that is necessary is moisture and a nice dark place. Many college campuses have had infrastructure issues like crumbling walls, mold, infestations, and flooding especially in older dorm buildings. However, with the recent outbreak of mold-related illnesses on many college campuses the main focus is on how different universities' housing and maintenance organizations have ignored and dismissed many students' pleas for relocation or mold fumigation efforts.
Cases of black mold and its related illnesses have been found on college campuses like Duke, Villanova, and the University of Florida along with many local schools such as George Washington University (GW), and Howard University. The cases of black mold infestations resulted in the evacuation and relocation of many students from residence halls, and most notably a sit-in protest outside of Howard's Blackburn University Center. 
At GW mold was found in more than ten different on-campus living quarters, including Townhouse Row, a set of eight fraternity and sorority houses, along with Shenkman, Amsterdam, and Guthridge residence halls. Many students reported ear and eye infections, coughing, vomiting, flu-like symptoms, and headaches all while testing negative for both the flu and Covid-19. 
One GW student, Helena Balch, told the GW Hatchet of a constant leak that caused water to pool at her desk while she resided on Townhouse Row. Despite no mold being found in Balch's sorority house, she was potentially exposed to black mold over the summer while living in Shenkman Hall. That potential exposure along with the poor air quality that was reported by the University made not only Balch but many of her sorority sisters sick. Over 200 Townhouse Row students would eventually be evacuated with similar flu-like symptoms found to be a cause of black mold exposure.
"Sophomore Luc Saint-Genies experienced itchy eyes and a cough for about a week after moving into his Shenkman Hall unit last month. After he received treatment for an infection and cold-like symptoms at the Colonial Health Center (CHC), he said he and his roommates found what appeared to be mold in the vents around their stove," reported the GW Hatchet, George Washington University's student led newspaper. Saint-Genies reported that a CHC nurse told him his symptoms were due to black mold exposure and relocation was recommended. When requesting an alternate place to live from the Campus Living and Residential Education office, Saint-Genies and his roommate were reportedly dismissed and left to find alternate housing themselves until officials eventually granted him and his roommate housing a week later. 
Saint-Genies was just one of 75 GW students who have filed forms to eradicate the mold growth from their dorm. Other students also reported campus maintenance staff disregarding calls to clean mold spores along with pore jobs in efforts to remove the affected areas.
Howard University had a very similar black mold problem coupled with cockroach infestations and flooding. This led many students to conduct a sit-in protest drawing the attention of national news publications like CNN, and the support of Rev. Jesse Jackson, Rev. William Barber II and Martin Luther King III.
Black mold has yet to kill someone this year on a college campus but two years ago in 2019, University of Maryland freshman Olivia Paregol died of complications due to black mold exposure in her on campus housing in Elkton Hall. "The family is seeking a total of $100.4 million in damages from the university and former officials for wrongful death," stated the Washington Post.