English Teacher Bikes to Make a Difference and Tests Herself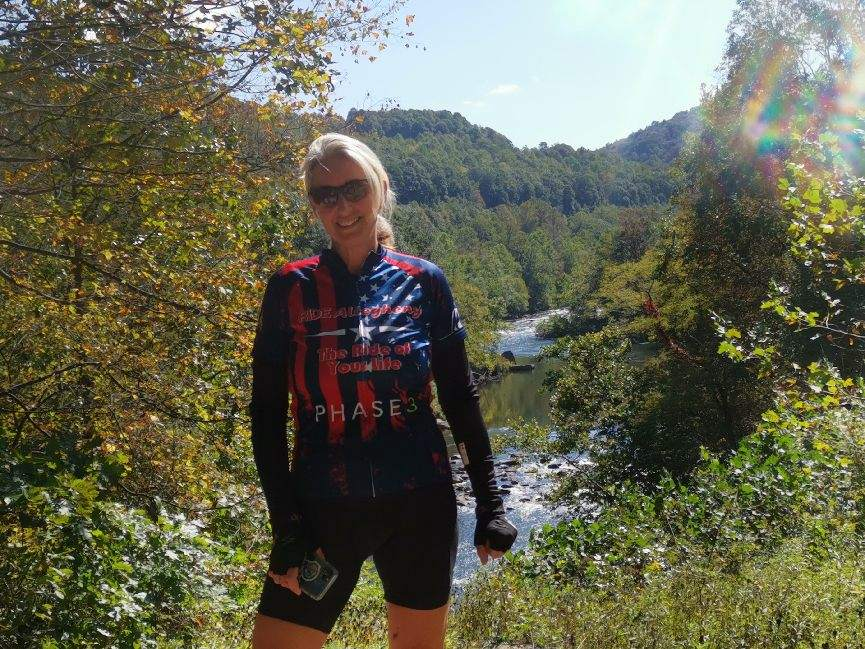 by Lauren Frank '23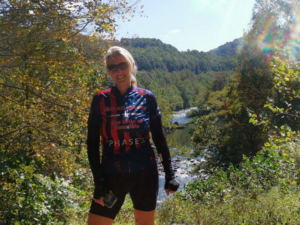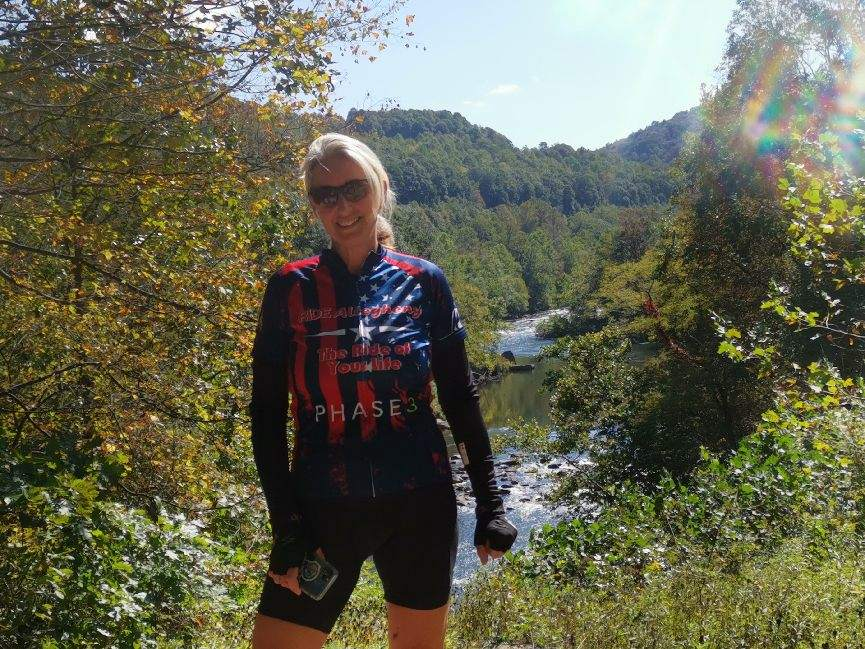 English teacher Christiane Lock participated in a strenuous 310-mile bike ride from September 30 to October 3 on the Great Allegheny Passage, stretching from Pittsburgh, Pennsylvania to Gaithersburg, Maryland. Lock was one of hundreds of cyclists who participated in the ride, raising money for the Operation Second Chance Organization that supports wounded and disabled veterans, specifically focusing on helping those who struggle with mental health issues such as PTSD or Depression.  
Using Facebook, Lock collected money from friends and family with a website called Givebutter, and the funds went directly to Second Chance. Other cyclists might collect money through businesses or other organizations. In the end, the grand total raised among the cyclists was about $650,000.
Lock has participated in this ride for the past three years, and found out about it from English teacher Kelly Shultz, who has done it before.  She immediately wanted to do it, as the organization's cause was very important to her. "Mental health and suicide can be major problems for people who have seen trauma while serving. I believe society should be supporting veterans who have risked their lives while serving our country," Lock said. This motivated her to train for the ride, cycling with participants in the area every week for long distances. 
The first day of the ride, Lock and other cyclists gathered together at the starting line in Pittsburgh early in the morning, to complete their first 69 miles en route to Ohiopyle, Pennsylvania. The second day, cyclists traveled 73 miles to Cumberland, and the third day, 83 miles to Hagerstown. On the last day, they traveled 72 miles into Gaitherburg concluding their long journey.
Lock wouldn't have been able to do this bike ride without the hours of training put into biking and working out. "Over the summer, I averaged 100 miles per week, sometimes more.  I trained on the bicycle at least four days per week and often lifted weights at least twice a week," Lock said. 
Along the route, there were designated checkpoints cyclists could stop at to grab a quick bite to eat. At these stops Second Chance kept track of the cyclists to make sure they were keeping up with the rest of the group. If cyclists did not make it to the checkpoints in time, before it was dark, then a Service and Gear (SAG) vehicle would take the participant and their bike to the hotel for that specific night. 
Lock was experienced and fast enough to complete each segment of the ride within 5-7 hours each day. Despite suffering a slight injury when falling off her bike after it hit a rock, Lock got back up and continued the ride. The cyclists were lucky enough to have pleasant weather and enjoyed the breathtaking scenery of the misty forests and Youghiogheny River. 
"After completing this ride for the third time, I have realized my own strength.  As one of the faster female riders, I can proudly use my physical and mental power to face a daunting challenge – 310 miles in four days.  I have confidence in my ability to persevere through adversity," Lock stated. 
The stamina, motivation and camaraderie from the cyclists always amazes Lock. "All the other riders and volunteers are extremely supportive and encouraging. We work together to help each other through the challenge."