The USWNT's Problem of Riches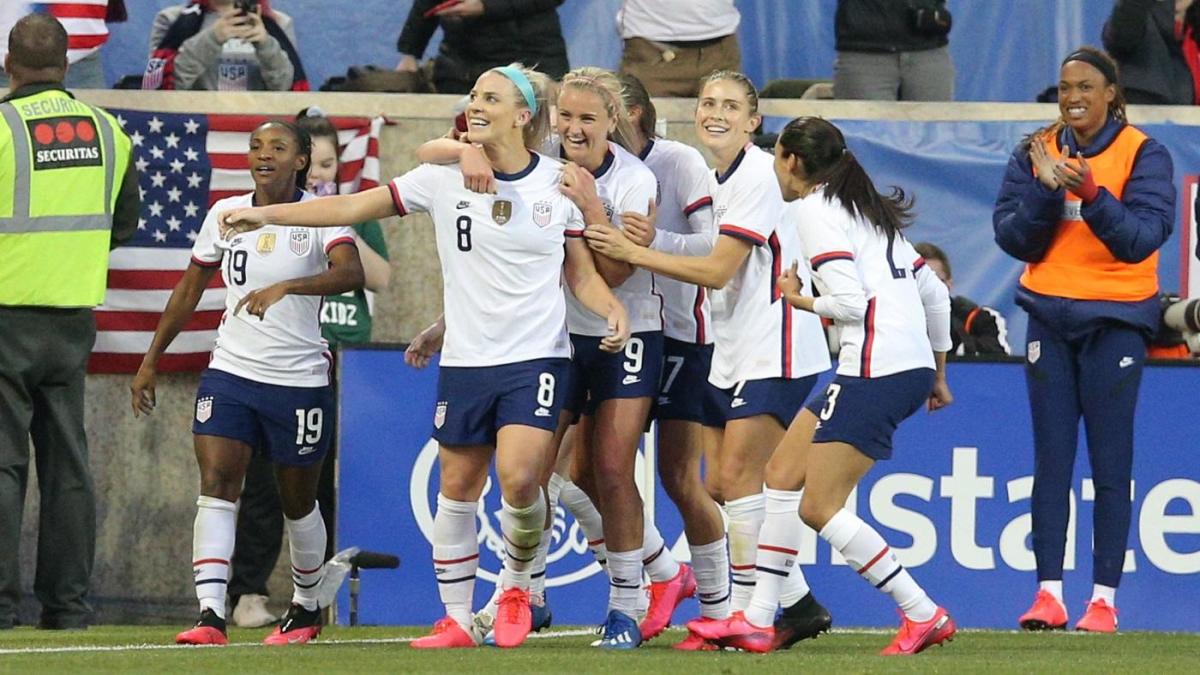 by Sydney Wiser '23
The U.S. Women's National Soccer Team (USWNT) is the top women's soccer team in the world. They successfully defended their title as World Cup Champions in the FIFA 2019 World Cup in France. However, their next big tournament is the Olympics, which in 2016, they were eliminated from in the quarter-finals. As the team prepares to head to Tokyo this summer, their coach faces a problem of riches. 
The United States is home to an abundance of world-class players and it's been said that their bench, as well as their starting lineup, could be one of the best teams in the world. The issue for head coach Vlatko Andonovski, who replaced former head coach Jill Ellis last year, is how to narrow down which players should be on the Olympic roster of eighteen. 
Ellis' larger 2019 World Cup roster of 23 has changed under Andonovski. Players like Morgan Guatrat and Allie Long have fallen out of favor with the new coach and new players like Kristie Mewis and Midge Purce, who grew up in Silver Spring and starred at Good Counsel, have been given opportunities in recent months. 
Other valuable players who were assets to the team in 2019 have also become question marks. These include well-known names like Tobin Heath and Carli Lloyd. Heath has been out with an ankle injury since January, and it was recently revealed that she left her Manchester United club team to rehab a knee injury in the U.S. It is unclear whether she'll be back in time for the Olympic roster release, but to lose such a creative and versatile player will certainly be a blow to the team. At 38 years old, Lloyd is easily the oldest player on the team. Having such valuable experience in major tournaments is useful but many are wondering if Andonovski will make her an alternate to give a space to a younger, more eager player. Andonovski can choose four alternates to bring to Tokyo with the team. 
Young talents like attacking midfielder Catarina Macario and forward Sophia Smith are nipping at the heels of older veterans. At the young age of 21, Macario has already racked up impressive stats. She signed with the top French club Lyon and in nine appearances, has scored six goals. She also has a goal with the USWNT's senior team. Her fellow former Stanford Cardinal, Smith, is also a talented young forward with four appearances for the USWNT and one assist to Alex Morgan for Morgan's first goal since her pregnancy. After not being called up for six years, 30-year-old midfielder Kristie Mewis has recently made her return to the USWNT. While on the older side, Mewis has had a successful season with her club team, the Houston Dash, and has three goals and three assists since her return to the national team fold in November of last year. 
There are a few names that Andonovski has likely written into his plans in permanent marker. In the starting six position, Julie Ertz is consistent, versatile, and a veteran, despite being only 29. The starting backline of Becky Sauerbrunn and Abby Dahlkemper as the center back pair and Kelley O'Hara and Crystal Dunn as the right and left backs are also likely in Andonvski's plans. ESPN's top female player of the year, Samantha Mewis, will probably get to keep her midfield position as well. 
Andonovski is set to release the roster in June, but until then, the players have games for their club teams to prove that they belong on the roster. The National Women's Soccer League (NWSL), where many of the players play, is set to begin its season May 15.