Colleges Mandating Vaccines Is the Right Thing To Do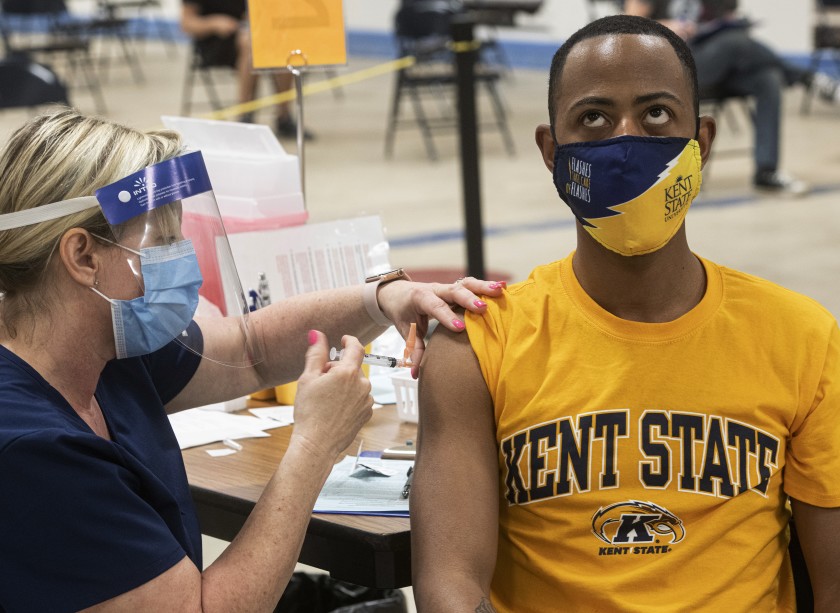 by Riley Sandoval '22
As Covid-19 vaccinations are becoming increasingly accessible to people ages 16 and older in all U.S. states, several colleges are making it a requirement to be fully vaccinated before students can return to campuses in the fall. Mandating Covid-19 vaccinations is a necessary step for colleges to take in order to ensure a safe return to normal.
Rutgers University in New Jersey was the first to require students returning in the fall to show proof of vaccination. Rutgers is also encouraging their faculty and staff members to get fully vaccinated. Some students can request an exemption from vaccinations for medical or religious reasons. Additionally, students who are fully online or in off-campus programs do not need to show proof of vaccination. "Vaccinations are an important tool for making the fall semester safe," said Antonio Calcado, the leader of Rutgers' Covid-19 task force. "We felt that just simply encouraging would not have the same effect as a requirement."
Universities nationwide have since followed Rutgers' example. So far schools like the University of Maryland, the University of Delaware, Cornell, Brown, Duke, Northeastern, and Cleveland State have added the requirement. The University of Maryland is urging students to make sure they receive their first dose of the Moderna or Pfizer vaccine no later than July 6. This way they can receive their second dose, or single dose of the Johnson and Johnson, before the August 2 requirement. "Mandating a covid vaccine is the most effective strategy we have, especially as we try to reach herd immunity. It's not just one tool in this fight; it's our best tool, and one I believe is critical to our safe return to campus," said Jay A. Perman, the chancellor of the Maryland state school system. 
Universities that have taken this measure are simply adding it to their list of immunization requirements necessary to attend. In addition to the vaccination mandate, most colleges and universities will most likely continue other safety measures like mask wearing, social distancing, and regular testing. However, a vaccinated student body will likely increase possibilities that restrictions in place this school year will be lessened or removed altogether. Vaccinations not only create a safer environment, but also a more liberating one where colleges and universities may be able to return to full or nearly full capacity in dormitories and allow more students to attend sporting events and other campus activities. 
Putting Covid-19 vaccination mandates in place is a much needed step to prevent outbreaks on and off campus, and give students the college experience they missed out on for the past two years. Several students who were able to return to campus in the fall of 2020 for classes or to live there, had to return home because other students did not follow guidelines and went to off campus parties that led to Covid-19 outbreaks. With a vaccination mandate, the students who party and do not social distance, cannot ruin the on campus experience for other students. Mandating vaccination against Covid-19 is a step all colleges and universities should incorporate into their return plans.