Short Film Shines Light on Nonbinary Community in Hawaii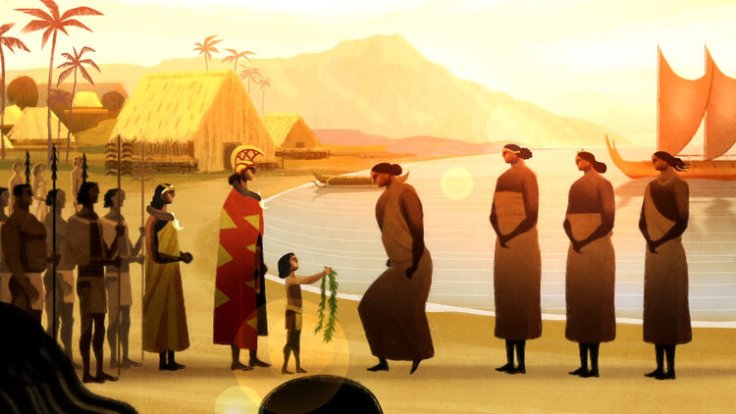 by Riley Sandoval '22
While most teens pay little attention to short films other than the few sprinkled among movie trailers, the genre is a great way to quickly tell a story, and even spread awareness, which is exactly what "Kapaemahu" achieved. 
The eight-minute animated short film tells the origins of four stones on Waikiki beach in Hawaii. Over 700 years ago, four beings from Tahiti brought their healing abilities to Hawaii. The leader of the group was named Kapaemahu. These people were neither man nor woman, and were given the name Mahu, meaning third gender or nonbinary. Each person had different healing abilities that were placed into the four separate stones upon their departure from Hawaii. 
The stones were long forgotten and buried underground after the arrival of foreigners to Hawaii. "Kapaemahu" provides the history and traditions that make these stones so important to Hawaiian culture and why people should care for them. 
"Kapaemahu" was written and directed by Hinaleimoana Wong-Kalu. They are a native Hawaiian and descendent of the original inhabitants of the islands. They are also a member of the Mahu community themselves. Wong-Kalu stresses the importance of feeling connected to Hawaiin history and culture, citing it as a key reason for creating the film. "I want our young people to understand that the ability to embrace both the male and female aspects of their spirit is not a weakness but a strength, a reason to rejoice not to fear," added Wong-Kalu as another reason behind the film's creation.  
"Kapaemahu" is told through animation and narrated in Olelo Niihau, an unbroken form of the Hawaiin language. The animation does a wonderful job at portraying the spiritual energy and magic the Mahu brought with their healing abilities. The decision to narrate the short film in Olelo Niihau with English subtitles helps make the film even more unique while portraying feelings of being connected to Hawaiin culture that the director, Wong-Kalu, hoped to achieve. The narration and music serve as a reminder and revival of Hawaiian culture and traditions that had been forgotten and ignored. Additionally, the music and sound effects add to the mysticalness of the Mahu's healing powers and the spiritual energy of the four stones. 
The short film has received well deserved awards, nominations, and screenings from film festivals across the globe. Most notable are its premiere at the Tribeca Film Festival, and its nomination for Best Animated Short Film in the upcoming Academy Awards.
Overall, Kapaemahu has done a fantastic job at piquing one's interest in Hawaiian culture and making people care about the whereabouts of the four stones in a captivating and entertaining way, while simultaneously creating an increased understanding and respect for the Mahu community who are too often discriminated against. The Mahu and nonbinary community are usually erased or ignored in history, so the film serves as a much needed form of representation.   
Grade: A+
Watch Kapaemahu here: https://www.kapaemahu.com/