On Sports: Sell the House! Wizards Need New Start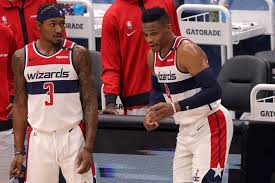 by Dylan Sondike '24
As of February 11, the Washington Wizards are 6-15 and 2nd to last in the entire Eastern Conference. After the trade for Russell Westbrook, Wizards fans including myself hoped for a better start and season. So far, the opposite has happened.  Rarely do you see a team with two all stars on one of the worst teams in the NBA. As difficult as it is to move on, Bradley Beal, who is leading the NBA in points per game, and Russell Westbrook should both be traded. Coach Scott Brooks and General Manager Tommy Shepherd also need to be let go. This team needs a fresh start. 
This team has shown no signs of turning this season around; in fact, they have been worse recently than before a  Covid outbreak on the team paused their games. Their main problem is their defense. This season the Wizards are dead last in points per game allowed, giving up 121.2 per game. They are seventh in the number of made three pointers allowed per game, and fourth in field goals allowed per game. The lack of closing out shots and not being able to finish games is inexcusable. Coach Brooks is entering his fifth year with a record of 154-184, but in the past three years he has a combined record of 60-112. In other words, the team has been getting worse during his tenure rather than better. In his stint as GM, Sheppard has tended to overpay players especially an ok shooter Davis Bertans who is being paid 16 million a year. 
Should the Wizards decide to go this route of rebuilding the team, trading Beal should get the Wizards in return at least two to three future first-round picks, as well as one or two young players with a bright future ahead of them. Since Westbrook is past his prime, he will have less value but still could be worth a first-round pick. The Wizards do have some young players to build around. Israeli rookie Deni Avdija has shown promise, as well as second and third year players Rui Hachimura and Troy Brown Jr. If the Wizards trade Beal and Westbrook, they will be better positioned to get picks this year and have a chance at star college prospects such as Evan Mobely (USC) or Cade Cunningham (Oklahoma State). With either of these stars plus the other young players currently on the team, the Wizards organization will have a bright future.
Now the counterargument is that it is too early in the season to sell the house and start over. But with more than 50 games left in the season, there is still time to go a new direction this year and be primed for next season. . Some fans also blame the Wizards' recent struggles on their Covid outbreak, which caused them to miss six games. They think that the Wizards got rusty and just need more time to get back in shape. This is all true, but the Wizards were struggling just as badly before the layoff.
Overall the Wizards need a clean slate! The front office has plagued this organization and Beal deserves to be on a winning team. I love his loyalty but at some point one needs to realize the changes that need to be made in order for this organization to start back at square one.