AOC's Livestream Was More than Politics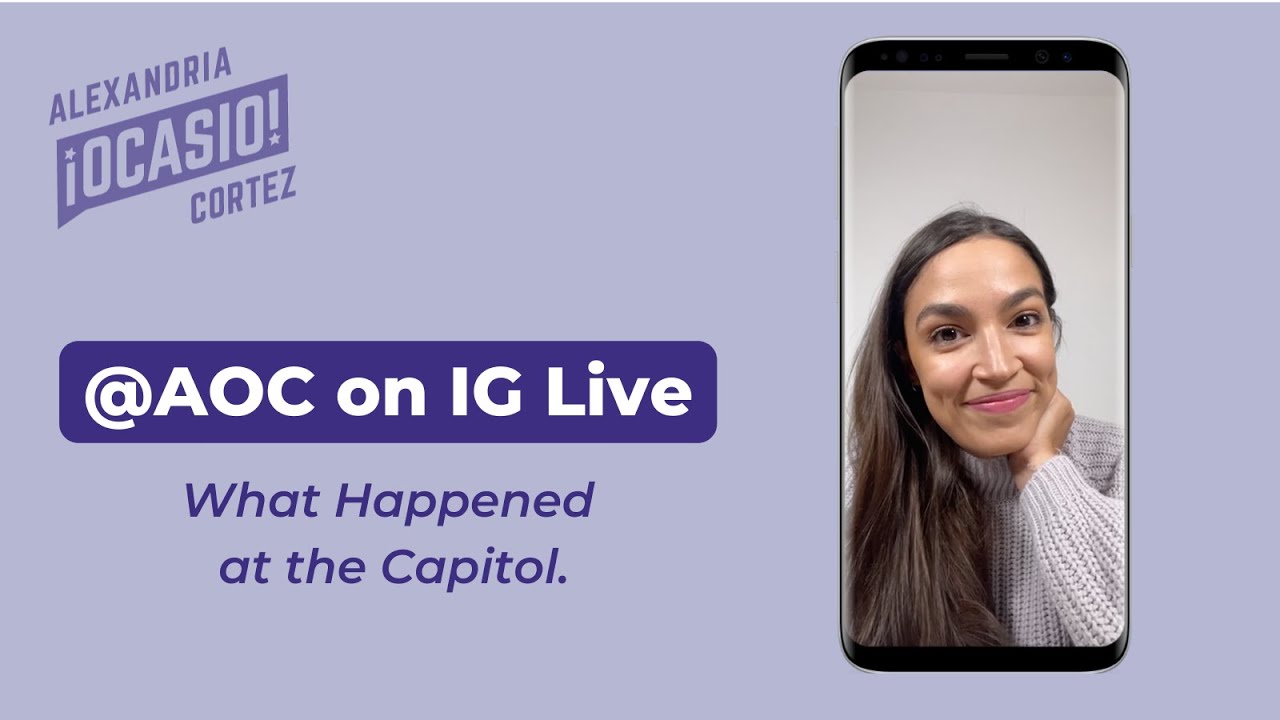 by Sydney Wiser '23
Alexandria Ocasio-Cortez (AOC) was one of the hundreds of Congress members present when supporters of former President Donald Trump stormed the Capitol building on January 6. On a February 1 Instagram livestream, Cortez sat down to recount her traumatic story. 
Cortez shared that she was in her office on January 6th when she suddenly heard banging on her door and a man's voice shouting '"where is she?" Cortez, assuming that someone was trying to break into her office, hid in her bathroom. She confessed on the livestream that while she was hiding, she felt like she was going to die. Once the man was inside her office, Cortez was able to see that he was a Capitol police officer. However, the self-described stress level she experienced from the encounter put her in a panic stricken state for the rest of the day. 
What was most striking throughout the livestream was how willingly Cortez shared her vulnerabilities and fears. She revealed that as a sexual assault survivor, being put into a life-threatening situation was triggering. Cortez allowed her viewers to see her as a victim of trauma who is angry not solely about what happened in the Capitol, but also about what happened to her personally on that day. When Republican politicians who serve with her in Congress attempt to sweep the event under the rug, her frustration is beyond that of a person fighting for democracy; she's fighting to validate her trauma. 
Via livestream, arguably the most intimate way a politician can interact with constituents virtually, Cortez gave viewers an opportunity to see her lingering trauma from the insurrection. This more personal connection allowed for viewers to better understand the need for accountability as the country moves forward from the January 6 riot. 
Holding people accountable for their actions in relation to the riot is, as Cortez reminded viewers, beyond politics. It's about safety and trust. Cortez is calling for some of her colleagues, including Senators Ted Cruz and Josh Hawley, to be held accountable for their roles in inciting the January 6 violent insurrection. She also condemned them for their continued inflammatory comments such as Cruz's "I'd do it all over again" when he defended his baseless claims questioning the credibility of the 2020 presidential election results. 
Cortez shone a different light on the events of January 6 through her personal story. When victims of trauma come forward and share personal accounts, the event is humanized for people, such as when the students from Parkland, Florida spoke out against gun violence after their school fell victim to a school shooting. Through televised rallies and social media platforms, the students shared details of their respective traumas directly with the public which made their fight against gun violence all the more impactful. Cortez's bravery in sharing a similarly personal side to herself on such an accessible platform as Instagram, is truly powerful. 
As Trump's second impeachment trial begins, it is important to keep stories like Cortez's in mind. The Capitol riot was deadly and the victims were traumatized. Accountability for those responsible must be a guarantee to protect against future danger.