Bama vs OSU: Keys To Who Wins Tonight's National Championship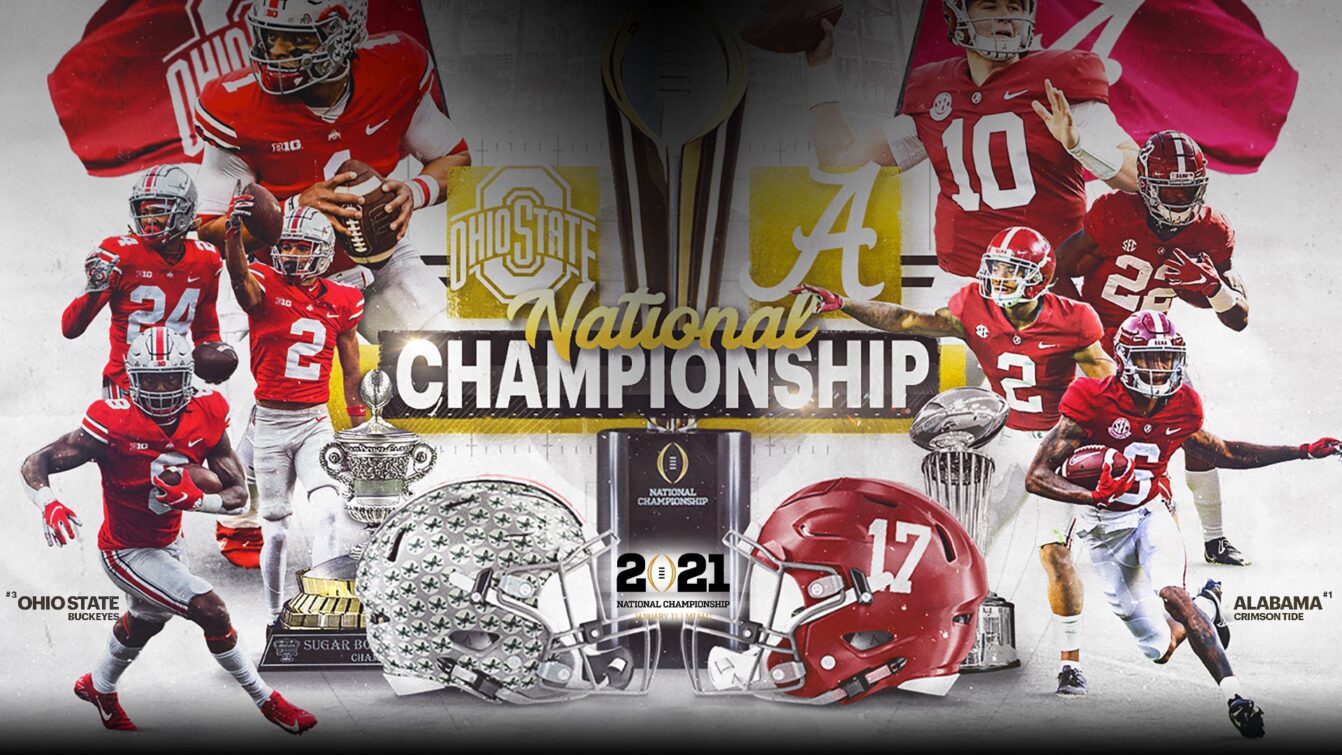 by Aaron Jaffe '21
In the semi-final playoff games, we saw a familiar sight with Alabama rolling past Notre Dame and a surprising upset in the rematch between Clemson and Ohio State, setting up a great matchup for Monday Night. While the Crimson Tide never gave critics a single reason to put any other team in the top spot in the rankings all season long, Ohio State felt the polar opposite. The Big Ten started their shortened season a few weeks after the SEC, giving the Buckeyes a schedule of only 6 games with Covid-related game cancellations. The main argument to keep Ohio State out of the CFP was the other programs who played 11-12 games like Florida or Texas A&M and suffered losses in part to playing double the games Ohio State did . In highly different seasons, the Crimson Tide and Buckeyes will face off against each other for the title, and here's how each side can take home the hardware.
How OSU Wins:
Run. The. Ball.
In the Big Ten championship game against Northwestern, quarterback Justin Fields struggled in the air but on the ground running back Trey Sermon rushed for 331 yards and 2 touchdowns. Then against Clemson, Sermon rushed for another 193 yards and a touchdown. Alabama has one of the most lethal offenses in college football history. Keeping their offense off the field and continuing with what has been a strength as of late gives OSU a great shot at victory.
Go Conservative on Defense
With the playmakers Alabama has like wide receiver Devonta Smith, running back Najee Harris and quarterback Mac Jones running the offense, you aren't going to be able to stop them. It's about how you contain that potent offense to give yourself a chance. The Buckeyes should let Alabama take all the short yards, and keep 2 safeties in deep coverage from the start to the end.
How Alabama Wins:
Feed the Heisman
Alabama was so proficient on offense this 2020 season, they ended up having two Heisman finalists with Devonta Smith and Mac Jones. The Buckeyes best corner Shaun Wade will likely shadow Smith all game, but that shouldn't inject any fear into Nick Saban's gameplan. Feed the first non-QB/RB Heisman winner since Charles Woodson in 1997 and don't shy away from the best weapon in college football.
Get 3rd Down Stops
While this can be said for just about any team for any football game, it's especially important for Alabama to keep their offense on the field for as long as they possibly can. Against Clemson, OSU's Justin Fields absolutely lit up the Tigers defense for 426 total yards and 6 touchdowns. Keeping Fields from extending drives and making extra plays will help relieve an already stout Alabama defense. Bama won't have a problem scoring the ball, but getting stops could be their Achilles heel.