On Sports: Lamar Jackson Is a Choker But It's Not All His Fault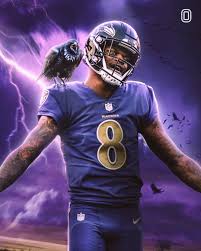 by Matt Rosenthal '22
Baltimore Ravens MVP quarterback Lamar Jackson has won 25 of his first 34 starts (including postseason), an unbelievable beginning to a career. There is one downfall to this record, however. In the six most meaningful games of Jackson's career–his three games against the Chiefs, two playoff games against the Chargers and Titans, and the 2020 Week 8 matchup against the Steelers–he is 0-6. Furthermore, when the light shines away from Jackson, he performs otherworldly. But when the lights are brightest, he fades away.
In the 2019 Week 1 dismantling of the Miami Dolphins, Jackson had the best game of his career, throwing for 324 yards, 5 TDs, and a perfect passer rating. This game did not have huge expectations placed on Baltimore, but this was Jackson's coming out party and the game that thrusted him into the MVP race. On the other hand, the 2020 Week 3 contest against the Chiefs, a potential playoff matchup between two young star QBs, Jackson had his worst statistical game. He threw for only 97 yards, acted scared, and ran the ball for 87 yards. 
Another reason for the "Big Truss" Ravens' choking nature is that there are no star wide receivers for Jackson to throw to. Baltimore's offense is built off of the run game and play-action throws to tight ends, but every quarterback has to have a deep threat. The Ravens do not possess such an asset. Patrick Mahomes has Tyreek Hill, Kyler Murray has DeAndre Hopkins, and Deshaun Watson plays lights out every week and makes due with Will Fuller. Jackson has Willie Snead and Marquise Brown, by no means scrubs but not stars. They drop easy passes and Brown has some attitude issues reminiscent of his cousin Antonio. 
So how can Baltimore reverse this choking nature? They first have to fire Offensive Coordinator Greg Roman. While Roman was the pioneer of this Baltimore spread offense, he was reluctant to make changes to the system for this season. The Ravens' offense last season was unpredictable, but teams have been able to figure out the offense this season. They need a new offensive mind to come in and use the pieces they have to make a new system.
Next, Baltimore has to draft, trade for, or sign a star wide receiver. Brown and Snead are not sufficing as number one targets, so a new guy has to come to town. Falcons star receiver Julio Jones may be in the market for a new home due to Atlanta looking into a rebuild. Baltimore could also consider drafting star college receivers Ja'Marr Chase of LSU or Devonta Smith of Alabama.
When at his peak, Lamar Jackson is a top five quarterback and one of the most dynamic football players of all time. But when he is not surrounded with help, he fails to live up to this hype.