The Holidays Look Different in 2020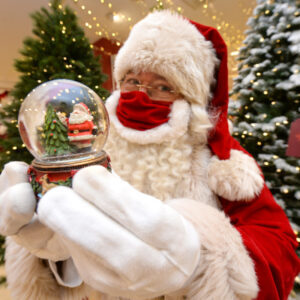 by Tori Newby '22
As the winter holidays approach, most families must rework their traditions. Thanksgiving resulted in a spike of coronavirus cases across the country, which is expected to reoccur as people congregate for Christmas and New Year's. Large indoor gatherings are ill-advised due to the high transmission risk of the coronavirus, so many families will take part in smaller get-togethers than they have in years past. 
Junior Peyton Sokol usually attends multiple family parties at Christmas and spends the night at her grandmother's house on the Chesapeake Bay; however, this year looks a little different for the Sokol family. "During this get-together, I must remain socially distant outside, and if I am to use the bathroom I must wear a mask," Sokol explained. While she wishes she could celebrate the holidays with her entire extended family, Sokol hopes that "despite this awful year we can use this month to spread joy to one another." 
Alternatively, other families are choosing a virtual approach rather than a socially distanced one. Sophomore Jordan Goodman lit candles and sang songs over Zoom with his extended family to celebrate Hannukah this year. "My favorite part is just saying prayers with my family, so we still were able to do some traditions which I am very grateful for," said Goodman. Similarly, junior Emily Siansky must rely on FaceTiming and texting her grandparents during Hannukah, since they are unable to fly up from Florida due to safety concerns. "I have not seen them in person in two years which is pretty sad," said Siansky, as her grandparents were unable to make the trip last year, too, due to their schedule. 
For freshman Thomas Fenner, Christmas will also be a much smaller gathering than usual. Normally the Fenner family can expect visits from family in Florida and North Carolina, but he is still looking forward to relaxing with close family. 
Other families are still unsure of their plans for this holiday season, concluding an entire year of uncertainty. "We aren't totally sure on anything yet because of Covid, but I am grateful no matter what happens because my family is healthy," said sophomore Mia Rohan, whose grandparents may or may not come for Christmas. Rohan's family may rent a cabin and go skiing, but as for most undertakings in 2020, everything will depend on coronavirus cases in the area.
New Year's Eve will also look different this year. Junior Adriana Bohlmann usually celebrates a new year at a sleepover with a large group of friends. "This year, there is so much uncertainty, and I doubt I'll be seeing hardly anyone outside of my family," Bohlmann said. Fenner will also be celebrating with his immediate family, and plans "to stay up until midnight, of course, and watch this dreadful year end, and watch a new one begin."