Wall for Westbrook-Why the Wizards Won this Blockbuster Deal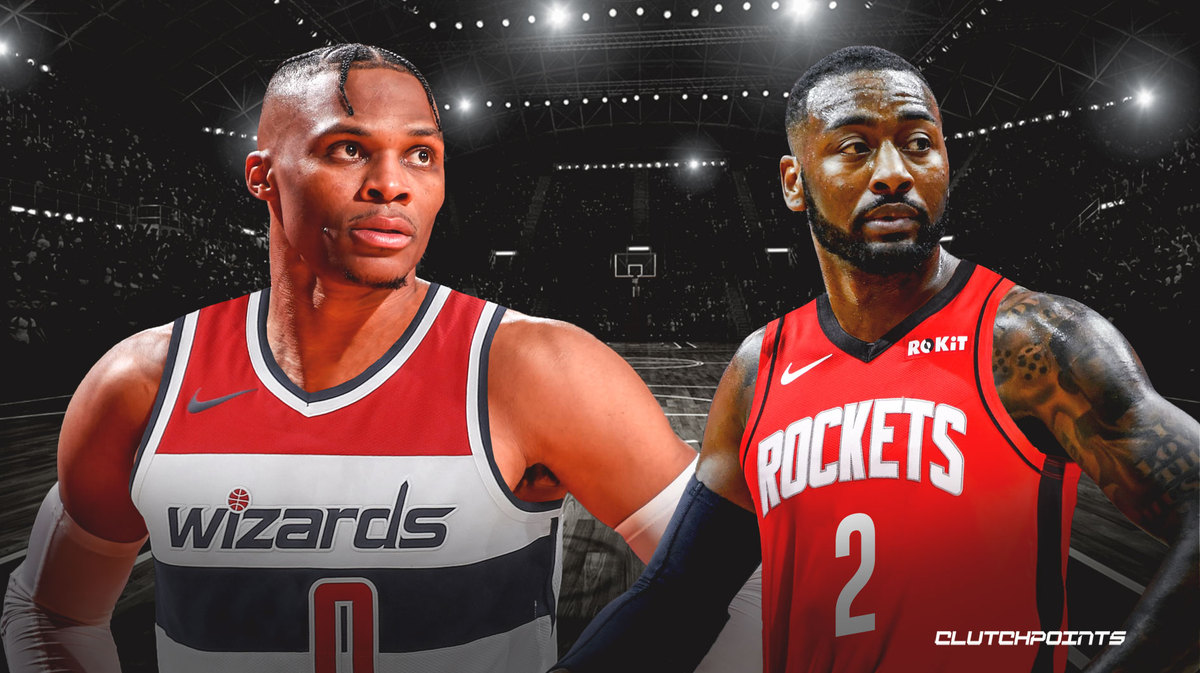 by Aaron Jaffe '21
As the shortened NBA offseason hotstove of news dimmed to a slow burn, the Washington Wizards and Houston Rockets reignited the flame. On December 2, the two franchises made a deal that sent former all-star point guard John Wall to Houston along with a lottery-protected 2023 first round pick for current all-star point guard Russell Westbrook. At first glance, the move seems more lateral than anything for both squads, as both Wall and Westbrook are known for their explosiveness, playmaking and inability to shoot the ball at a high clip. However, when you take a deeper dive into this blockbuster one team does seem to be a clear winner, and they reside in the Nation's capital.
But first let's take a look at why the Rockets made this move. Houston took on a huge risk with Wall, as the former all-star hasn't stepped on the court since December of 2018. The risk is so evident that the Rockets also received a 2023 lottery-protected first round pick with Wall, which will turn into a top-12 protection in 2024, then top-10 in 2025, top-8 in 2026 and finally two second round picks. In less statistical terms, the pick won't be turning into anything too valuable even years down the line. In Westbrook's one season in Houston, the backcourt with James Harden did not mesh as well as everyone predicted, leading the Rockets to be knocked out of the playoffs in the second round by the LA Lakers in five games. With a healthy Wall, the Rockets will replace Westbrook's inefficient shooting and get an improved defender and passer. As well as Wall being two years younger than Westbrook, Wall is 30 and Westbook is 32, he has also proven to be a better playoff performer, but again it relies on what type of John Wall returns to the court.
For Washington, they added a former MVP and all-NBA third team member from the 2019-20 season to a roster that didn't have a point guard last year. A big part of why Westbrook wanted out of Houston was the accountability issues with the Rockets. Anyone who watches Westbrook plays knows he gives 120 percent each night and will let nothing get in the way of winning. Someone else who has a similar mentality is his new backcourt mate, Bradley Beal. GM Tommy Sheppard has been looking to build a winning culture in DC since he arrived in the summer of 2019. Wall has been the face of the franchise since he was taken number one overall in 2010. As beloved as Wall is in DC, he has missed the last season and a half while also on a supermax contract. To get a player of Westbrook's caliber while offloading the expensive contract of Wall is a huge win. Giving up the future first round pick that will likely land outside the lottery is a small price for what Westbrook will bring. 
Wall is a risk and Westbrook is a certainty, which has been badly missed for needed for a team that is in a win-now window. As hard as it is to see the end of the Wall/Beal duo, this new era of Westbrook/Beal is a massive deal for the Wizards. The two new backcourts in Washington and Houston will certainly be an interesting storyline to watch throughout the next season.