On Sports: Covid-Ridden College Football Season Is Unrealistic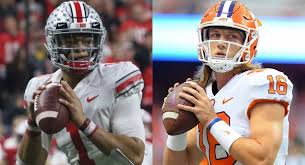 by Jimmy Yates '21
College Football continues to experience a large sum of Covid-related troubles, but conferences still plan to finish the season. The risks and uncertainties of the season were well-known before the season started: players, coaches, and staff would be at risk to contract the virus and miss one or multiple games, but most conferences still decided to have a season. As a result, we may see teams in the top ten that have no reason being ranked so high, like Iowa State, and a college playoffs not reflective of teams' talent and potential.
So a few players get Covid and miss a game or two, not a big deal, right? If only it were that simple. A few positive tests from a roster or staff often lead to more positive tests, increasing the chance of cancelling or postponing the scheduled game. However, only so many games can be postponed or rescheduled because the season must end by a certain date, usually in early January. 
If games are cancelled, teams may lose eligibility for conference tournaments and championships. Over 100 games have been postponed or cancelled already. If teams only have a few players that tested positive and contact tracing does not force a large number of players to sit out, the scheduled game can carry on as planned without the players who tested positive. 
The absence of the Covid-positive players can heavily influence the outcome of games and rankings. Clemson's star quarterback and Heisman candidate Trevor Lawrence contracted Covid-19 and missed two games. Forced to put in their backup freshman quarterback, DJ Uiagalelei, the Lawrence-less Tigers were able to come out on top against the weaker Boston College, but lost to fourth-ranked Notre Dame in a second overtime. Lawrence is a better leader, quarterback, and is more experienced then Uiagalelei, so Notre Dame's victory over Clemson was frowned upon not only by Clemson fans, but many others who witnessed Notre Dame beat Clemson's freshman backup quarterback, illustrating the impact of Covid-19 on arguably Clemson's biggest game of the season. While currently in the playoff picture, ranked third, if Clemson loses another game, they will almost certainly miss the college playoffs.
The decision to have a college football season at all was a risky one. The Big Ten initially postponed their fall football season until the spring but later reversed its decision and made plans for a delayed shortened season starting on October 23. Fourth-ranked Ohio State has not lost a game yet but may miss out on the college playoffs because of the cancelled games and a shortened season. Ohio State had their last two games against Maryland and Illinois cancelled because of positive Covid tests from their head coach, Ryan Day, among other staff members and players. If Ohio State has another cancellation, they are not eligible to play in the Big Ten Championship and their chances of making the playoffs decrease significantly.
Sports analysts agree that Clemson and Ohio State belong in the college playoffs, and their star quarterbacks belong in the Heisman conversation. However, due to Covid-19, these two powerhouses have a smaller chance of getting into the playoffs. Accordingly, Clemson's Trevor Lawrence and Ohio State's Justin Fields  have a smaller chance of winning the Heisman because of missed and cancelled games. 
Covid-19 has affected college football in many ways, but the most upsetting is to watch talented and competitive teams' playoff chances go down the drain because they're attempting to play a normal college football season in the midst of a pandemic.