Package for Patriots Offers A Way to Give Back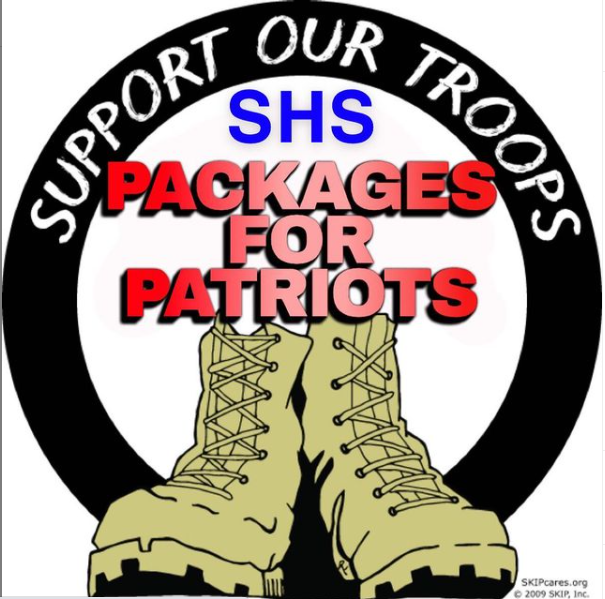 by Sudha Sudhaker '21
President Kennedy's famous words, "Ask not what your country can do for you, ask what you can do for your country," are perfectly embodied in Sherwood's new club Packages for Patriots, which offers students an opportunity to serve the hardworking troops overseas right from their own home.
Founded by juniors Annelise Cacace, Lauren Turner, and sophomore Luke Weichel, the club supports troops by sending them encouraging letters and care packages including personal care items, travel size snacks, and games. These boxes full of "tastes from home" keep deployed members connected to the places and things they cherish.  Meetings are held on Zoom every Monday to discuss collecting funds, shipping packages, and different ways of raising awareness for the club. 
Supporting troops overseas was especially important to Cacace and Weichel, since both their fathers were in the military. "Growing up in a military household inspired us to do as much as we could to give back to our troops," said Cacace.  
Packages for Patriots  is currently planning a drop-off to gather supplies with social distancing restriction in place. In addition, funds from the club fee are used to purchase supplies for the packages. Members are working to get their first set of packages sent out to a military base in Maryland in time for Christmas. Due to COVID-19, the shipping process has been slowed down, so members have to send out their packages by a specific date for them to reach their destination in time.
 Nevertheless, considering the stresses of a global pandemic, the club is motivated to do as much as they can for troops. "It is more important now than ever to support our troops while they are going through a pandemic without the security of being in their own home," said Weichel. 
With the ongoing global pandemic that has slowed down many of our lives, take some time to give back to those who are in much more difficult circumstances.  Just the small gesture of writing an encouraging card or assembling a care package can provide invaluable comfort to  soldiers overseas or at bases in the States. "We want others to know that our club is a great way to support the many soldiers," added Turner.