Sherwood Graduates' College Experiences Reshaped by Pandemic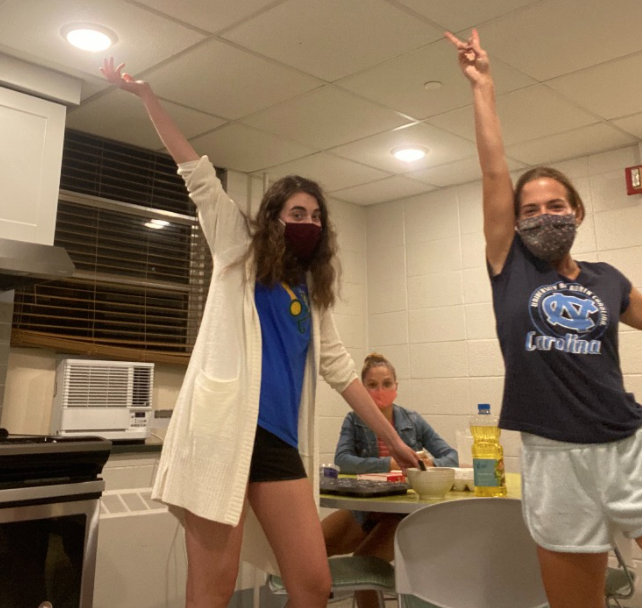 by Reade Fenner and Tori Newby '22
The Class of 2020 graduated from Sherwood with hopes of an enjoyable college experience after their senior year was spoiled by the pandemic. The absence of a regular prom, graduation, and other events most senior classes get to enjoy was depressing for many, but few predicted the pandemic's effects on normal life would last this long and alter their college experience as well.
While some college freshmen have been to enjoy their time on campus, most have not been as lucky. Many Sherwood graduates were sent home after a few short weeks on campus, decided to stay home and take classes online, or pursued a gap year.
When Ally Newby and Carlee Malone ('20) were accepted to the University of North Carolina at Chapel Hill, they anticipated a semester of new experiences on campus. However, after three weeks in Chapel Hill, the coronavirus cases spiked, and students who were living in dorms were required to leave. Malone was one of many UNC students who tested positive for coronavirus, and she left campus to take online classes at her parents' new home in North Carolina. She feels as if the quality of her education has greatly decreased since moving online. "It's so much harder to feel engaged and productive when I'm in my own bedroom than it does when you're in a place that is literally designed for learning and working," Malone said. 
Newby was also disappointed to be leaving campus, as she enjoyed getting to know her roommates and exploring Chapel Hill. "It feels like my entire freshman experience was condensed into the three weeks I was there," Newby said. As she is doing all of her classes online while living at home, Newby described her experience as "a weird in between state between high school and college. I'm back into my high school life without the high school part. It's weird to come back when I wasn't done." Newby has recently moved into an apartment near campus with a former suitemate, while Malone is currently living alone in a Chapel Hill Airbnb, both hoping to simulate a more traditional college experience. 
Elizabeth Oliver and Lara Kachechian ('20) both began the semester from home, as they were concerned about the risks of living on a college campus during the pandemic. Oliver, who attends the University of Vermont, chose to take classes virtually rather than live in a dorm on campus. Already anxious about going to college for the first time, online learning has made the experience more stressful for Oliver. "I feel I have no personal connection with any of my teachers. I don't know how to use all the platforms they are using, and I don't get to meet any of my classmates," Oliver said. 
Kachechian has one in-person class at the University of Maryland, which she attends by driving to campus from her home in Olney, but the rest of her classes are online. Dealing with the pressure of virtual learning has been difficult for Kachechian as well. "I expected there to be better communication to students about what was going on, but because of the pandemic, everything is so confusing," Kachechian said.  
University of Florida student Morgan Dunn ('20) has been able to enjoy a more traditional freshman experience while living on campus. Classes are all online, but UF has not been strictly regulating social behavior, so students are able to mingle freely. Although Dunn feared her first semester in college would not live up to her expectations, she truly has been able to enjoy her time on campus. "We are allowed guests in our rooms, we can sit with our friends at the dining hall tables, and there are constantly outdoor game nights with games like spike ball and cornhole with lots of students and not many masks since they are not required outside," Dunn said. 
Unlike many students taking virtual classes, Dunn prefers online learning. "Classroom settings tend to make me anxious, and I like to work at my own pace," Dunn said, "It works perfectly for me." 
However, just a few weeks into the semester, Dunn's roommate tested positive for Covid-19. Dunn was required to move into a quarantine dorm for two weeks, where she lived in a room alone, and was not allowed to go outside. UF did not provide Covid-19 testing, so Dunn got a test on her own. After testing negative, she moved out of the quarantine dorm and is now living in her aunt's house nearby until she is allowed to return to her regular dorm on campus next week. 
Phoebe Farris and Natalie Cavanaugh ('20) are also both living on campus. Farris goes to Catholic University of America, where some of her classes are in-person and the rest are online. Mask mandates are strictly enforced at CUA, while social distancing rules are more lenient. Despite the limitations due to the coronavirus pandemic, Farris has been having fun socializing with new friends and exploring DC. Similar to Dunn, Farris enjoys the independence of virtual learning. "I always thought I was really bad at math, but I have found that I learn it so much better if I can learn at my own speed and learn it in my own way," Farris said. 
Cavanaugh is also experiencing a hybrid learning schedule at Fairfield University. She faces a lot of uncertainty as the rules regarding the coronavirus pandemic on campus continue to change. "It is hard because I know I would meet more people, have more freedom, and experience my campus in a totally different way if we weren't still dealing with Covid-19," Cavanaugh said. Besides her social life, Cavanaugh's learning experience has also been disadvantaged. She is having difficulty connecting with her professors and absorbing information the same way she would if all classes were in-person. 
Adam Levine ('20) was accepted into Yale University, but after receiving news that freshmen could only live on campus for three months, he opted to take a gap year. 
"A big part of the reason I chose Yale and one of their big selling points in general is the experience you have when you go: the traditions, the people, etc. Because of COVID, a lot of that experience was going to be extremely different or not even present at all," Levine said. He is currently living in an apartment in Bethesda with friends while pursuing several opportunities; Levine is working full time at the Olney Dental Center and taking a computer science course at Montgomery College, as well as engaging in journalism-related activities. He is an intern at the MoCo Show, a podcast reporting on Montgomery County news and culture. Imprint, another publication on which Levine has been working, is a website he created to uplift the voices of Generation Z. Levine also plans to write for the Yale Daily News in the near future.