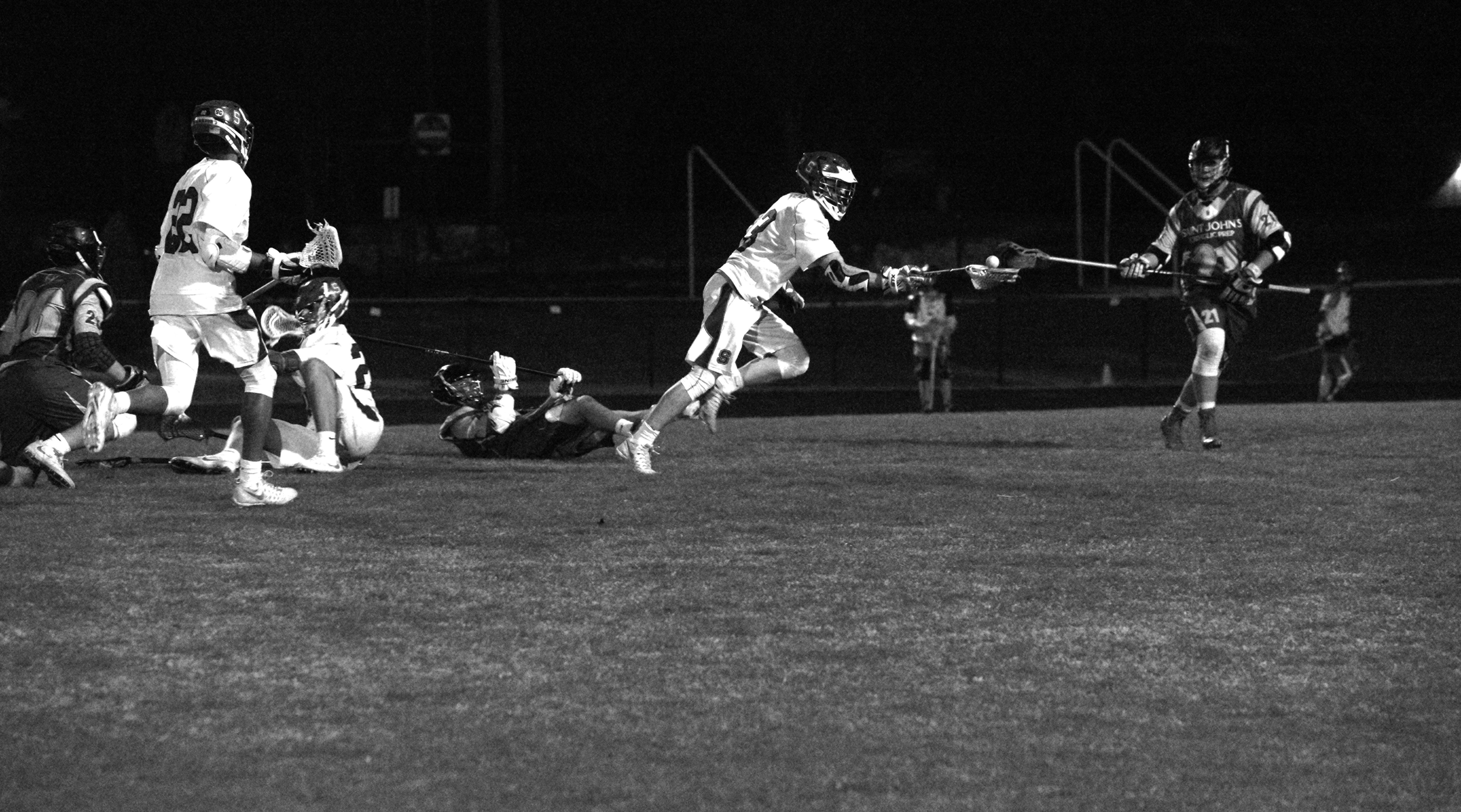 by Brandon Alter '17
The boys' lacrosse team this year will look to improve on last year's 9-6-0 record and a second-round playoff exit. The team has stated that their goal is to get to the regional finals in order for the season to be successful. The team is 1-1 as of Friday morning. Narrowly defeating St. John's Frederick 14-13 behind seven goals from senior Nick Gallagher, and losing on the road to Century 14-7. They opened up county play yesterday against Whitman and they will Springbrook on the road at noon on Saturday.
With the goal being the regional finals, the team will look towards their 17 seniors for leadership. "Our seniors are very important to the team and many of them are starters or key players" said coach Matthew Schneider. "We will rely heavily on their leadership and experience throughout the season." They will be without senior Connor Devers, who suffered an ACL injury in the fall. They will also be without captain and All American Matt Popeck for most if not all of the season. Popeck was tied for the team lead in ground balls with 92 last year. He was second in assists, 17, and he caused 31 turnovers. Popeck was selected to the all county and all division teams and was named a US Lacrosse All American.
The team is currently playing man-to-man defense, but hopes to switch into a pressure zone later on in the season. The switch to zone may need to come sooner rather than later as the Warriors have allowed 13 and 14 goals, respectively, in first two game. They are allowing a lot of back door passes and open men on the crease. "Once we realized they weren't trying to shoot, we stopped sliding. We stopped helping once a man got beat," said senior Kevin Russell. Goalie Clinton Bissell is the backbone of the team's defense. Bissell was not allowed to play against Century for failing to inform the Athletic Director at least 24 hours in advance that he would be late to school because of a doctor's appointment. Long-stick middie senior Nick Pinto called it a "very big loss." He added that Bissell has "gotten really good the past few years, and I'm sure he could've stopped a few more of their goals."
Part of the struggles for Sherwood is they are taking a lot of penalties, a combined 15 in their two games so far. "We definitely need to cut down on penalties," said Schneider. "If a pattern emerges with repeat offenders we may have to consider alternatives. However, that is not a concern at this point."
On the offensive side, the Warriors run a combination of 3-1-2, with the three middies at the top of the box, an attacker in the middle, and two attackers on the wings, a 2-2-2, and a 1-4-1. It does seem to be working as they are averaging 14 goals a game on 33 shots. "We have a lot of threats [on offense] and we plan to run a balanced offense. We will exploit the best match ups each game," said Schneider of the team's current offensive production.
An important part of the Warriors offense is the transition game either after a turnover, or off of the faceoff. Faceoff specialists sophomore Tristan McKeenly and junior Justin Hong are winning 42 percent of the draws. The Warriors are also scoring a lot when they are not in a 6-on-6 scenario, whether that be a man-up or in transition.