Swim and Dive Excited for Championships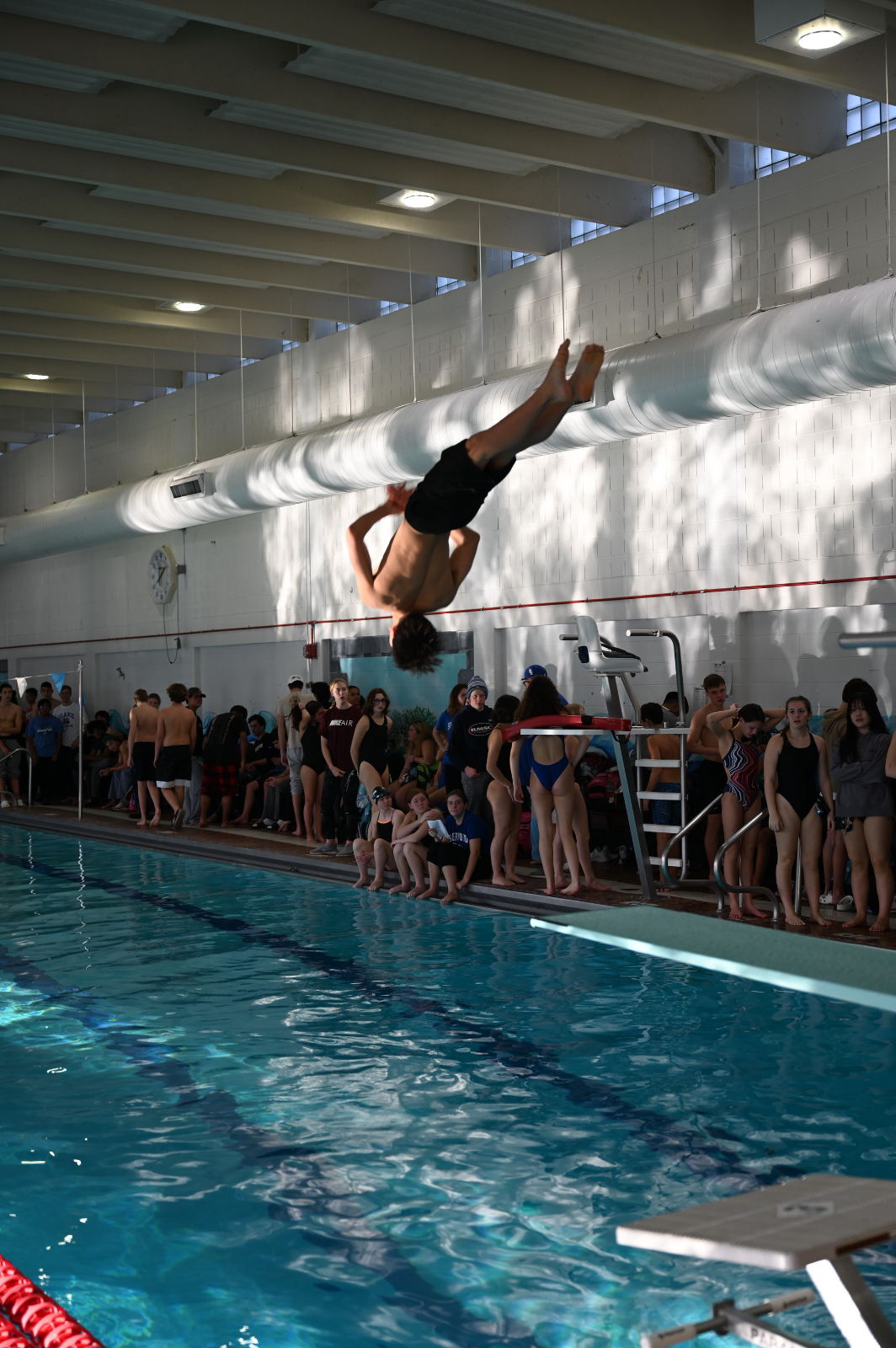 by Maggie Reese '24
As the swim and dive team transitions to the major meets that punctuate the end of the season, there already have been countless successes. The boys have had an exciting season so far with an extremely close meet against Poolesville and an impressive win against Richard Montgomery. On the girls side, The Warriors started fast with victories against Damascus, Blake, and Poolesville.
Among the strong swimmers and divers on both teams are a substantial number of talented freshmen such as Corinne Blachere, Kylie Gravell, Jill Williams, and Maya Quiroga that have all placed high in events, contributing to the team's overall success. Williams and Blachere team up with another freshman, Julia Boardman, and senior Lily Smith to form a strong 200 medley relay.
The girls also have senior diver Lilia Atanda, who is preparing for even more success than last year when she achieved first place at States. Earlier this season, Atanda broke the school record with her scores for four dives in the process of earning a total score of 205.00. Junior Adrianna Caponiti also has potential to place high in 200 and 500 yard freestyles.
On the boys side, seniors Lucas Quiroga and Bryan Kim, along with junior Brian Wilbur and sophomore Justin Lakso, put together an excellent 200 yard medley relay that may be among the strongest in the state. Wilbur continues to pile on various wins in the 200 IM and 100 breast as well as contributing to relay. Continuing the trend, Quiroga scores with 100 fly and Lakso with 50 free. Junior Devin Kosiorowski and Kim have stolen points away from opposing teams with a number of 2nd and 3rd place finishes. After starting the season 3-0, the girls got a reality check in a 132-54 loss against Richard Montgomery on January 7. The Rockets took first place in all but two events, with the Warriors' only top finishes being Caponiti in the 200 free and Atanda in the dive event. After losing a close meet against Gaithersburg before the holiday break, the boys flipped the script in 101-83 win against Richard Montgomery with wins in the 200 IM, 100 breast, 100 fly, and 50 free, along with multiple 2nd and 3rd place finishes.
"We've had some wins and we've had some losses, but the spirit and the atmosphere at the meets makes the competition exciting, practices worth it, and the commitment a valuable and memorable experience," said Caponiti. "It has been an awesome year so far. I think that in our upcoming dual meets and Metros, we're going to have some very challenging competition and close races."
Soon, swimmers and divers all over the county will be preparing for Metros. At the multiple-day meet that takes place on February 10 and 11, swimmers must place in the top 20 at preliminaries to advance to the finals. Sherwood is excited to go against rivals that they only face at the annual event that features public and private schools from around the region.."I'm also really excited for the Metros because it's the biggest and most exciting meet of the season,"said senior captain Smith.
Sherwood has one last regular season meet against Blair on January 28. Sherwood's swim and dive team, with its capable veterans and fast freshmen, is in a prime position to match or exceed previous performances at Region Meets from February 16-18 and at the state championships February 24-25.