Harry and Meghan's Bombshell Interview Divides Generations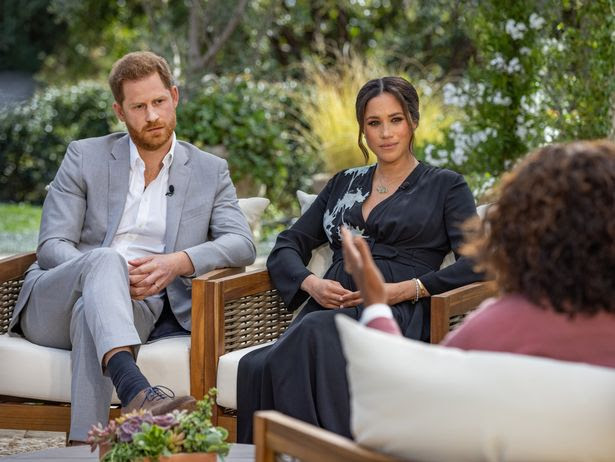 by Hailey Sepulvado '22
The United Kingdom's political agenda is not a topic of conversation at the average American dinner table, but the royal family might be. From the grand weddings, tours around the world, and newest heirs being born, the social ins and outs and the glamour of "royalty" have always piqued American interest.  This, however, may be changing since Prince Harry and Meghan Markle's interview with Oprah Winfrey revealed shocking details about their lives as royalty and why they decided to leave the British Monarchy. A new not so "glamorous" light has been shined, leaving Americans debating their investment in the royal family after all. In their interview with Oprah, it was revealed that Meghan experienced racism within the family and felt an extreme lack of support from the Royals. It is no secret that Meghan is the first person of color to marry into the Royal family and it seems that her race played a role in her being bullied by the British tabloids and unsupported by the family she married into. During the interview, Meghan bravely revealed that because of the trauma she endured while being a part of the Royal Family, she became extremely depressed, leading to her becoming suicidal. Harry knew that he needed to get his wife and baby out of the horrible situation they were in, so he made the shocking decision to distance himself from the Royals and move to Los Angeles. 
Since their interview with Oprah, people seem to be divided on whether they believe Meghan's story and if they stand behind Harry and Meghan. This divide seems to be generational; older generations such as Generation X are more opposed to Harry and Meghan and younger generations such as Millennials and Generation Z are supportive of them. One reason for younger generations supporting the couple is their relatability. Meghan was very open and transparent about her struggles with mental illness while being an active member of the Royal Family during the interview; this stood out to many people because of the frankness of her confession that she had serious thoughts of suicide. Mental illness is becoming less and less taboo and the stigma surrounding it is becoming less and less, so a prominent figure such as a member of the Royal family coming forward about her struggles with depression, struck a chord with a lot of people. Many young people struggle with mental illness, making it easy to sympathize with Meghan's struggles. Older people might not understand as well because it is not talked about a lot in their generations, making it more difficult to understand and empathize with Meghan.
A lot of comparisons have been made between Princess Diana and Meghan Markle. They were both harassed and bullied by the British tabloids, and both struggled immensely with their time in the Royal Family. The British tabloids are what ultimately led to Diana's extreme unhappiness and ultimately led to her death. Meghan was heading down the same path as Diana, with the relationship she had with the tabloids. Many have called Meghan the "Diana of this generation" because Diana was also loved by the people similarly to Meghan. Both had similar reputations with the public and both have obvious connections with Harry. In the interview with Oprah, Harry said that he did not want history to repeat itself with Meghan, which is why he knew they had to take a step back from being senior members of the Royal Family. Even though being a part of the Royal Family may seem like a fairytale, it has been revealed through Princess Diana and now Meghan Markle that it is far from it.