On Sports: Nationals Look Like a New Team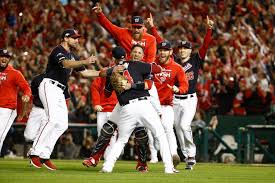 by Dylan Sondike '24
As baseball season approaches, the Washington Nationals are ready to bounce back from a rough shortened season in which they went 26-34. Due to other teams in the National League East making major moves, many now believe that the NL East is the toughest division in the MLB. But the Nationals did the most to improve, as well as welcoming back players from injury.  Look for the Nats to make playoffs this season despite their fierce division opponents.
During the offseason, the Nationals made two moves to bolster their lineup behind one of the best hitters in the game in Juan Soto. The Nationals acquired first baseman Josh Bell from the Pittsburgh Pirates and signed Kyle Schwarber in free agency from the Chicago Cubs. Bell had an Al-Star season in the 2019-2020 season, batting a career high .277 batting average while driving in 116 RBIs. Schwarber racked up 38 homers in 2019 for a career high. As for the pitching additions, they welcome former Cubs pitcher Jon Lester and former Cleveland Indians closer Brad Hand. Lester has 5 all star appearances as well as 3 world series championships. Hand led the league last season with 16 saves and has made 3 all star games, which should help a struggling Nationals bullpen.
Along with new additions, the Nats have two key players returning from injury: starting pitcher Stephen Strasburg and second baseman Starlin Castro. Castro had a strong start with the Nationals last season, hitting for a .267 batting average before suffering a broken wrist. Strasburg suffered carpal tunnel Neuritis his first game last season, but the season before that, Strasburg balled out with a record of 18-6 with an ERA of 3.32. Strasburg was also the World Series MVP that year and was a main factor that the Nationals won it all that season. With Strasburg back in the rotation, the Nationals now have 4 starting pitchers that have been all stars multiple times with Max Scherzer, Strasburg, Patrick Corbin, and Jon Lester.
These additions over the winter and players getting healthy will play a key role this season, especially in a ruthless division such as the NL East. However, the Washington Nationals have done more than enough this offseason to play in October. If star hitters and pitchers such as Soto and Scherzer continue to play good ball, then a division title and World Series is within reach once again.