Change-makers and News-shakers: Deb Haaland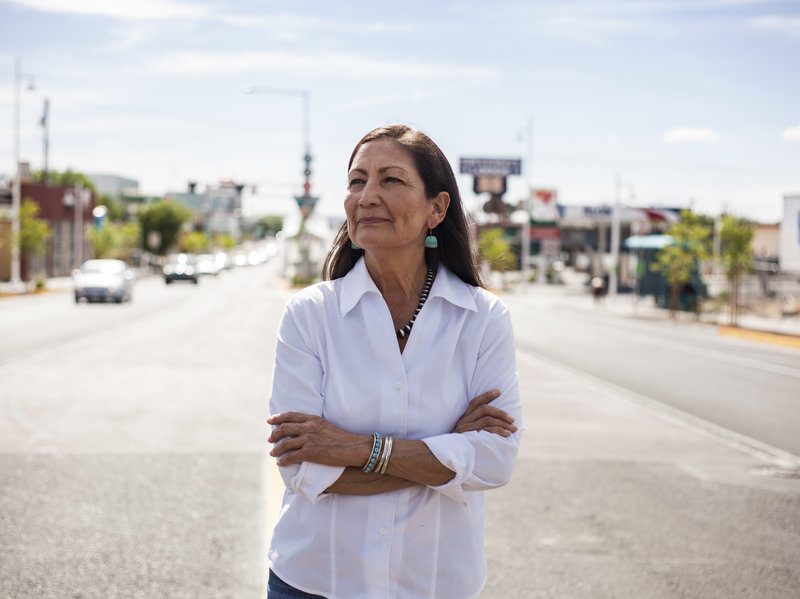 by Lizzy Hermosilla 23'
In America's long history, it took until 2018 for the first Native American women,  Rep. Deb Haaland (NM) and Rep. Sharice Davids (KS), to be elected to Congress. And no Native American has served as a cabinet secretary, well, until Haaland's nomination by the Biden-Harris administration to become Secretary of the Interior.
Haaland was born in Winslow, Arizona in 1960. She is a member of the Pueblo of Laguna Native American tribe and is a 35th generation New Mexican. Haaland put herself through college at the University of New Mexico, and then went on to specialize in tribal law while studying at the University of New Mexico School of Law. Soon, she became increasingly politically active. "I got into politics because I really wanted more Native Americans to get out and vote," said Haaland in an interview. Haaland attended Pueblo feast days and Navajo nation fairs in order to mobilize Native American voters. After a long period of volunteering, she got her first paid position working on the 2012 Obama Campaign and then ran for Lieutenant Governor of New Mexico in 2014. Despite losing, Haaland became the head of the New Mexico Democratic Party in 2015, and under her leadership, the Democrats won back the statehouse.
In 2018 at the age of 58, Haaland made a historic run for New Mexico's 1st Congressional District. She joined the House of Representatives and got to work on countless committees such as the House Natural Resources Committee and most notably the House Oversight Committee. In this position, she would conduct investigations into the Trump Administration's Department of the Interior.Without a doubt, her nomination to lead the Interior Department will bring the representation of Native Americans to the front of American politics. Not only will her position as cabinet member inspire countless Native American girls and boys, but her nomination also helps set the tone for the Biden administration's goal of inclusivity.
The Interior Department upholds the federal government's responsibilities to the country's 574 federally recognized Native American tribes. Since Haaland is already so educated and experienced in treaty rights, Indian laws, and tribal sovereignty, there will be no need to bring Haaland up to speed with the issues. As a New Mexican she understands the difficulty of transitioning from oil and gas to alternative energy because of New Mexico's oil and mining centered economy. She will also be able to tackle in her cabinet position the problem of climate change. Haaland believes that, "climate change is the challenge of our lifetime, and it's imperative that we invest in an equitable, renewable energy economy." Haaland's advocacy for clean energy is extremely apparent in her political ideology, as she is a supporter of the Green New Deal, and believes in the abundance of job opportunities clean energy will bring the nation. Haaland will also be a major player in Biden's goal for the United States to be carbon neutral by 2050. 
In reaction to Biden's nomination, Haaland posted on Twitter, "A voice like mine has never been a Cabinet secretary or at the head of the Department of Interior. Growing up in my mother's Pueblo household made me fierce. I'll be fierce for all of us, our planet, and all of our protected land. I am honored and ready to serve."