Taylor Swift's New Film Provides Viewers a Glimpse at her Mysterious Persona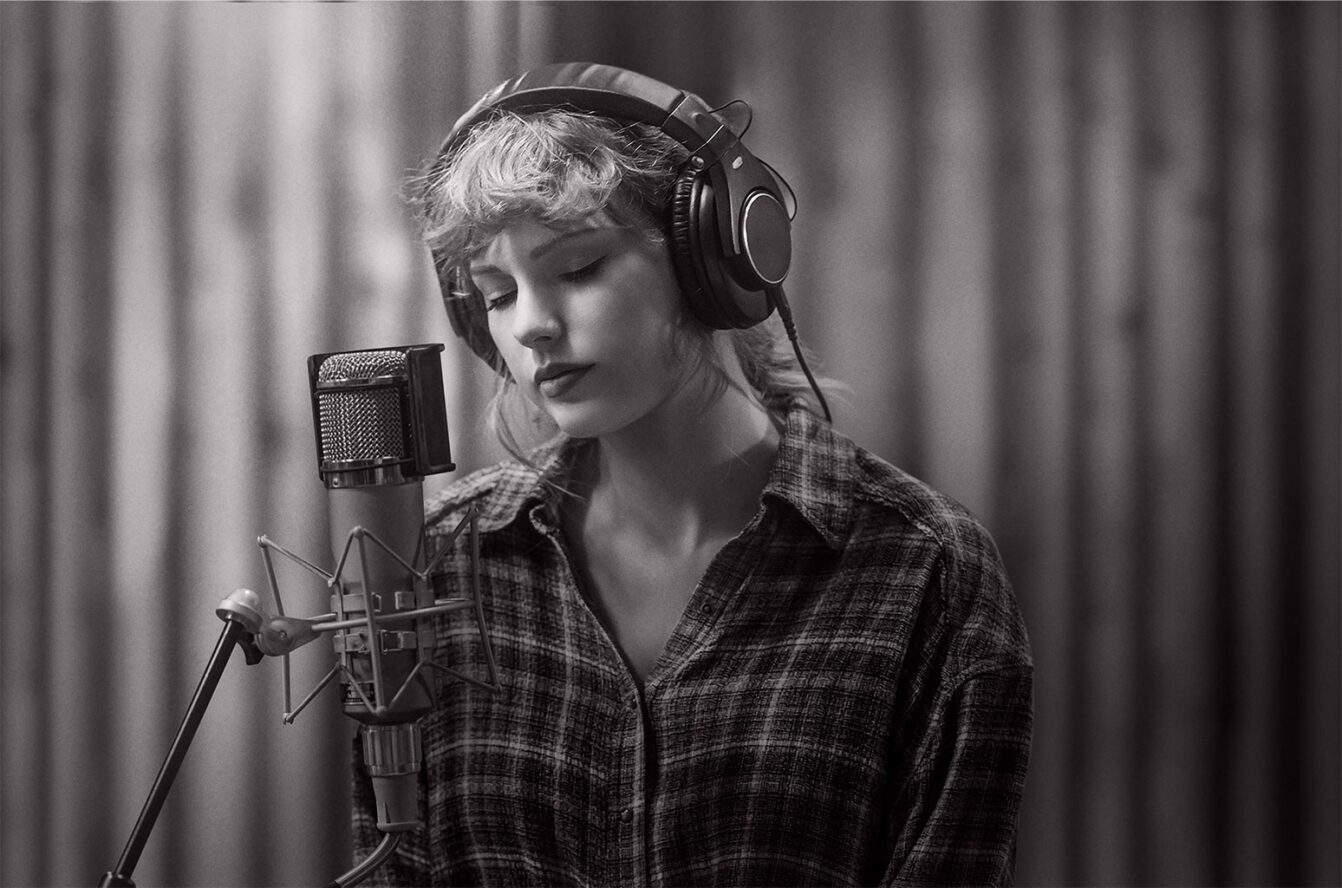 by Reade Fenner '22
Singer-songwriter Taylor Swift has experienced an impressive career with her emergence to fame at the age of 14, ten Grammys under her belt, and her ability to seamlessly switch between musical genres. However, despite spending most of her life in the spotlight, Swift is very private about her personal life. After struggling with public feuds earlier in her career, Swift swapped out drama for a more grounded, balanced lifestyle, free from the press' prying eyes. 
Despite Swift's current mysterious existence, she reveals certain aspects of her life through her songs, expressing her feelings about the Covid-19 pandemic and society's many complexities through her newest albums, Folklore and Evermore. To allow her fans a look at the elaborate nature of her songwriting in Folklore specifically, Swift assembled her writing and composing team, Aaron Dessner of rock band The National and Jack Antonoff of pop act Bleachers, to perform and talk through the album at the tranquil and historic Long Pond Studio in the new Disney+ documentary "Folklore: The Long Pond Studio Sessions."
Swift delivers raw performances of each song, with "This is Me Trying" being particularly emotional. Through the more upbeat songs, viewers can also sense Swift's passion as she beams and exclaims that she is having "a damn blast."
Watching Swift interact with Dessner and Antonoff when analyzing her album is fascinating. Between performances, Swift is pictured sitting across from one of the two, engaging in an intimate conversation about their writing process and motivations behind each song over a glass of wine. As a longtime fan of Swift, I enjoyed hearing how much effort and meaning she pours into her songs. 
Her breakdown of the love triangle presented by "Cardigan," "Betty," and "August" is particularly compelling, as she describes how it demonstrates the complexities of teenage romance from three different points of view: "Betty" from the perspective of a boy who regrets having an affair over the summer, "August" by the girl he cheats with, and "Cardigan" by the woman he betrays. Planting this story of heartbreak and regret for listeners to discover demonstrates how masterfully Swift weaves her songs together into an intricate and vulnerable album. 
Swift and her writers also explain how "Epiphany," a slow, melancholy piece, details the struggles of soldiers and nurses serving in their respective positions. Inspired by the unspeakable trauma nurses and doctors experience while battling the Covid-19 pandemic and her grandfather faced while fighting in World War II, Swift chronicles her assembly of a song meant to articulate the torture that comes with watching others suffer in these fields.
Bonus track, "The Lakes" also includes a captivating backstory. Feeling bored and forlorn while trapped in her home, Swift reflected on a trip she took to the Lake District in England, an area known for its past artistic community, when writing this song. She explains that poets such as William Wordsworth and John Keat moved to this area in an effort to escape the world and pursue their passions in seclusion. Swift related to this craving to disappear, as she has dreamed of a "cottage escape plan" her entire life. "The Lakes" perfectly expresses the need everyone feels to get away from being stuck in their home during this time, perfectly closing the album and documentary. 
Grade: A