Sherwood Has Breakout Performance At Woodward Relays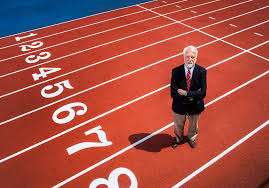 by Noah Corman '19
 For the past few years, Sherwood track and field has wallowed in mediocrity, often at the middle or bottom of the results sheets, but this year is different. In fact, it's historic. This past Saturday, Sherwood track and field competed at Woodward Relays at Georgetown Preparatory School. The boys 4×100 meter relay won their event, and the same four people also won the 4×200 meter relay. Both relays shattered the school records, and both ran times fast enough to qualify for New Balance Nationals Outdoor.
 The girls finished 7th out of 20 teams while the boys finished 5th out of 21 teams. Notable performances include the boys 4×800 meter relay, which ran its best time since 2014. Senior Sofia Grossman cleared 5 feet to finish 2nd in high jump while senior Tyrese Williams placed 5th in the long jump, clearing 20 feet and 3 inches. Senior Joseph Nazzaro won discus and placed 3rd in shot put. The girls 4×400 meter and 4×800 meter both finished 4th overall. Senior Rylie Johnson finished 4th in discus.
 Because this meet featured few individual events, this excellent performance can be attributed to Sherwood track and field as a whole rather than just a couple talented individuals. The team will have a two-week break before returning to competition at Penn Relays, an elite meet featuring the best athletes on the east coast, on April 25 through April 27. Those not competing in that meet will be in the Gator Invite on April 27.