Director Jordan Peele Does It Again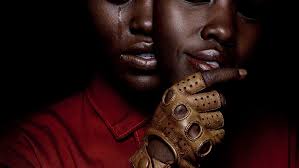 by Ayana Antoine '20
In 2017, the film "Get Out" made more than $33 million in its opening weekend. The chilling thriller showed the creativity of the director and writer Jordan Peele, who explained after that the film was not going to be the end of his horror films with people of color as his protagonists. While "Get Out" focused on horror while exploring the topic of racial prejudice, "Us" is a bone chilling thriller with subtle pop-culture references; such as T-shirts for "Thriller" and "Jaws" playing an intricate role in the plot.
"Us" not only lives up the the originality of "Get Out," it sets a high precedent for psychological thrillers to come. The film centers around Adaline Wilson and her husband Gabe Wilson, played by Black Panther stars Lupita Nyong'o and Winston Duke, alongside two children Jason and Zora Wilson, played by Evan Alex and Shahadi Wright Joseph.While on vacation, Adaline finds it difficult to relax as she becomes paranoid by her experiences as a child. She confirms her worst fears as four masked strangers surround their house, forcing the Wilsons to fight for their survival. When the masks come off, the family is horrified to learn that each attacker takes the appearance of one of them. Although the attackers take the physical appearance of the family, they seem to have fundamentally differing in the way they live, speak and interact. As the family continues running from themselves, Peele plays with the concepts of what makes people people.
Even though "Us" is a thriller, it does not overplay the blood and gore like other horror films such as "Evil Dead" or "Cannibal Holocaust," which relied primarily on shock value. Instead, the movie incorporates factual information and historic events to support the plot in a fashion that is logical but still remains highly unpredictable. Peele's selection of Nyong'o as a protagonist was a excellent choice seeing her unique ability to fully capture both characters she plays even with their polarizing personalities. This film puts Peele at two-for-two with horror films and leaves thriller fans excited for what he has in store next.
Grade: A