'Monopoly' Celebrates Success and Friendship on New Single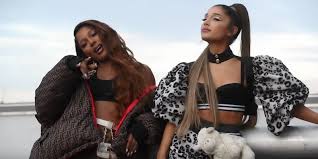 by Adam Levine '20
Not two months after the release of her fifth studio album, "thank u, next," and eight after her fourth, "sweetener," Ariana Grande has released a new single, "Monopoly." Co-written and sung with her best friend, Victoria Monét, the single, which Grande deems "a thank u to them fans," celebrates not only the musical success the two have had but their thriving relationship as well.
Through it has a "low-budget" vibe, the music video has racked up over 7 million views within the first 36 hours of release. Making the video seem like it was produced on a small budget allows Grande and Monet to create the idea that the video is just two friends having fun with each other, which is what the song is truly about.
The name of the song comes from the board game of the same name, which Grande is known to love playing with her friends. Grande puts the same fervor into her work as when she's playing the game, which is why her recent success with "thank u, next" can be represented by "Monopoly" as well as celebrated through a catchy tune and foot-tapping beat.
The song has also gotten fans excited over speculation about one of the lyrics. After the chorus, Grande and Monét sing "I like women and men." While Monét came out last November on Twitter, Grande's sexuality is something new for fans to ponder. About the lyric, Grande explained on twitter how "[she hasn't labelled herself] before and still [doesn't] feel the need to now … which is okay." Through "Monopoly," Grande has not only celebrated her friendship and success but also allowed herself to become closer to her fans.