A Fun DC Destination That's NOT A Museum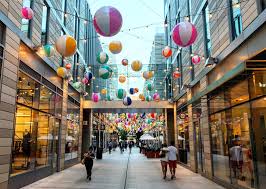 by Will Unger '19
If you're a stereotypical Olneyite like me, you probably haven't spent much time in DC, despite the fact that it's a vibrant and active city, it's only 45 minutes away, and it's the nation's capital. Most people who don't live a quick afternoon drive from arguably one of the most powerful cities in the world, would jump at the opportunity. But a lifetime of insignificant school trips and proximity has numbed us to the prospect.
If you're like me, you've missed out on a lot of cool places and a genuinely fun time.
To celebrate my birthday, I went into DC with my friends on March 23 and visited the United States Botanic Garden (USBG). Most people probably have no idea what I'm talking about, and I wouldn't have either if I hadn't seen the towering glass conservatory while volunteering nearby over the summer.
From outside, silhouetted against the Capitol building, the USBG looks like a billionaire decided to build a greenhouse on the National Mall. Inside, one can see all manner of plants. The conservatory (the big greenhouse) actually houses several different sections, from the "Mediterranean" to "Orchids" to a "Rare and Endangered Species" section. Bordering the conservatory is a beautiful outdoor space, perfect for taking pictures with friends or just chilling out. If that wasn't enough, the USBC also hosts a variety of programs, from cooking demonstrations, to dance lessons, to yoga.
If you're looking for a fun day trip, or just a natural spot to relax in between visiting the Smithsonian Museums, this is the place for you.
Address: 100 Maryland Ave SW, Washington, DC 20001