Administration Will Enforce Strict Dress Code To Improve Halloween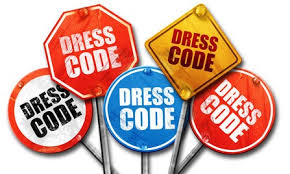 by Noah Corman '19
With Halloween fast approaching, the administration recently amended the Sherwood constitution. They added a provision that aims to make this Halloween the most productive one ever. It calls for formal costumes only, including and limited to a lawyer, doctor, or other job with a six-figure salary. Students are expected to take part in activities that will mimic an average day of work at a generic billion-dollar corporation.
Eager to share their vision with the Sherwood community, the school sent an informative letter home to parents.
"Think of this year's Halloween like an internship," the letter explained. "You'll have all the fun of a job minus the pay and benefits. Also, if you don't conform, you're fired."
As opposed to the usual apathetic response from students, some took the letter's message to heart. In the hallways, many were heard discussing 401K plans and mortgages. Others hoped to graduate from Sherwood with a master's degree.
"I heard that if I meet my quota this year, I can get a promotion for next year's Halloween!" said junior Doug Edwards.
Some adults in the Sherwood community responded positively as well, citing that it will prepare students for their future white-collar professions.
"Another great move by the administration," said local parent John Wilson. "My kid wanted to dress up as Spongebob, so I reminded him that he'd never make it as a talking sponge, not in this economy. Finally, Sherwood is straightening out these unruly juveniles."
The decision to regulate this holiday was spurred by last year's Halloween antics. Staff members complained that students running around in T-rex suits reduced the school's overall focus and gave the older teachers too many flashbacks. They assert that formal costumes are more professional and future-oriented.
"If you lose track of your future for even a moment, then suddenly you're running through the hallways pretending to be a prehistoric killing machine. It's a slippery slope," said Thomas Cohan, an Honors Precalculus and AP Calculus BC teacher. "If you're going to idolize a fossil, then look up to me instead."
In spite of the optimism and confidence from the administration and families throughout the community, some demographics showed hesitation in accepting the policy with open arms.
Arguments surfaced from various political groups that claim the amendment to be nothing but a ploy to bring about the country's downfall. Some even went as far as to suggest that Russian interference was afoot.
"Halloween is the backbone of America, so trying to regulate it is just thinly veiled fascism," said Brookeville resident Jason Voorhees, filled with rage.
Those views, shared by a minority of people in the Sherwood community, have been widely ignored due to their ridiculous nature. The general sentiment of the community is one of excitement about the potential upside of this Halloween.
"I think it's great. What did kids ever do for me? Growing up is one big downward spiral where life becomes progressively less fun, and then one day you die. How thoughtful of the administration to give them a headstart on that downward spiral," said Patrick Harrison, an unconcerned Sherwood parent.