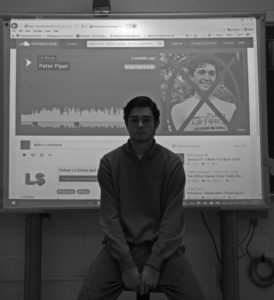 by Peter "Piper" Niverth '18
Sherwood has seen its fair share of local rappers, from the $aucy Boys to SteezyP to ICEE BOI and more. Each rapper records their own songs and posts them on SoundCloud. With his newest single, "Ty$on," local rapper Lil $heep seeks his own spot in the Sherwood Rapping Hall of Fame.
Lil $heep, the senior known as Logan Lamb, has actually been on the rapping scene since November 2016. His first single "Debut Night" was received with mediocre success, with only 197 views to its name. His subsequent recordings did about the same in terms of views, if not lower.
Lil $heep's breakout came in October of 2017 with his hit song, "Peter Piper." The song was a diss track aimed at his eternal rival, Peter Niverth. So far "Peter Piper" has been the success that Lil $heep has needed to be recognized as more than a mediocre rapper.
The song features a lively sounding beat (which may or may not have been taken from Youtube) and lyrics that were aimed to insult Niverth. Lil $heep commented on various aspects of Peter's life, such as his poor performances in cross country events, his state of being stuck in a pickle, and the fact that he smells of pumpernickel.
Despite the lack of skill in delivering the lyrics, the diss track soared over 1,100 views on SoundCloud and put Lil $heep on the map. With his newfound success, Lil $heep dropped his latest single, "Ty$on," in January as a way to satisfy his new fans. There was no question that the track did little to add to his already over inflated name.
The song features one of Lil $heep's friends and fellow rapper ICEE BOI. Once again, a Youtube beat drives the song along at a fast pace, accompanied by lyrics which boast the rapper's already large ego. Credit should be given where credit is due, as the song's lyrics posses cleverly written lines that make one go "Nice."
With the hype dying down from "Peter Piper," Lil $heep once again seeks his former spotlight. In mid to late February the rapper plans to release his first ever album, named "$heep Year," after the overused line from "Peter Piper."
"$heep Year" will be comprised of all-new and never-before heard songs, though judging from "Ty$on," they will be far from record breakers. Even the album's clever name does not make up for Lil $heep's lackluster performance of the album.
Until that day when "$heep Year" drops, there have been rumors of a "Peter Piper 2" expected to be released prior to the album as a single or within the album itself. Maybe Lil $heep realized that he should have stopped after his first diss track, but all that can be said about it now is: bring it on.