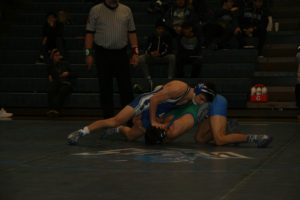 by Brandon Cohen '20
After a final regular-season record of 10 wins and five losses, the varsity wrestling team came up short of qualifying for the state duals. The Warriors needed a team win in the final tri-meet of the season last Saturday but lost their last two matches, one against Churchill by a score of 36-31 and against Springbrook, who remain undefeated, with a score of 58-18.
The team still had numerous highlights throughout the regular season. Although they lost their first match against Poolesville on December 6 by only one point, the team rebounded with many successful wins against such schools as B-CC, Watkins Mill, Magruder, Kennedy, and Wheaton. Approaching the middle of their season, the winning continued against the likes Richard Montgomery, Blake, Walter Johnson, and Paint Branch until they lost to Blair and then to Whitman by one point.
With a bit more good fortune, the season easily could have turned out differently. "Lots of wrestlers were out during the Blair match and others were coming in and out throughout the entire season," recounted coach Pete Siarkas. "We did not have our full team and only lost by one point to Blair, Poolesville, and Whitman. Everyone has injuries now and then and people are going to be out. However, with full strength, we could have been undefeated by now if we had everybody."
Because of the injuries, the team lost points when other schools had wrestlers in weight classes that Sherwood didn't, forcing them to forfeit out of those weight classes, because they could not offer wrestlers the other teams had. "We've wrestled pretty good but did have a couple guys injured throughout the season. We would sometimes start off our matches 12 points down since we were missing some of our weight classes, so we just needed our big guys in those weight classes," said junior wrestler Yusef Hugazi.
Although the Warriors will not wrestle as a team at states, individual wrestlers still have the opportunity to qualify for county, regional, and state tournaments. The Montgomery County meet takes place at Gaithersburg on February 15 and 16. Wrestlers who finish in the top six at the meet qualify for Regionals, which will be at Milford Mills in Baltimore on February 24. Wrestlers also can qualify for Regionals if they have earned enough points from individual matches throughout the regular season. Warriors who are looking to continue their season in these meets include senior Chase Suissa at 120 pounds, junior Paul Christenson at 126 pounds, junior Sam Ewing at 132 pounds and sophomore Chris Sanchez at 138 pounds.