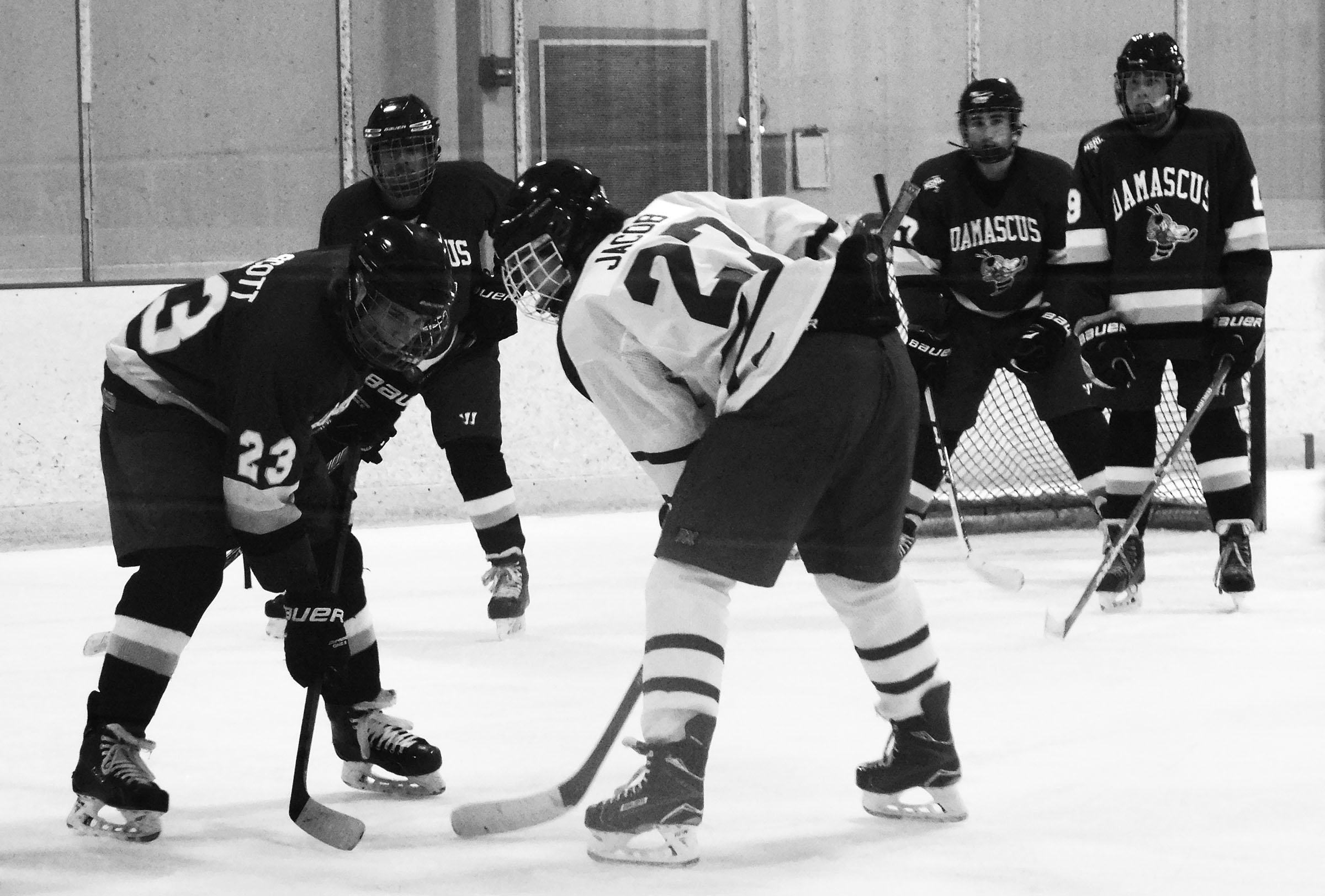 by Brandon Alter '17
The Sherwood ice hockey team, which is designated as a club sport, went a respectable 5-5-2 for a total of 12 points in the regular season. Sherwood looks to continue its high-octane offense of almost five goals a game into the playoffs later this month.
The Warriors are led on offense by senior captain Garret Warner, who is averaging more than a goal a game and has 14 on the season to go with six assists for 20 points. "Garrett is a great, unselfish team player which leads to good offensive opportunities when he's on the ice," said senior Andrew Gordon. "He isn't afraid to make a pass but he is more than capable of skating with the puck and shooting, which makes him dangerous for other teams because they don't know what to really expect from him. He also only has 6 penalty minutes which is very low in comparison to most of the other kids on the team."
Warner is joined at the top of the Warrior scoring by junior Dylan Jacob who has registered nine assists, which leads the team, to go along with eight goals for 17 points. The Warriors have another four players that are averaging a point per game or more this season: sophomores Steven Blum, 5-8-13 (Goals- assists- points) and Sam Rudnick, 5-8-13; senior Shane Ells, 5-8-12; and junior Simon Gosselin, 7-5-12.
To go with this high-powfacing almost 30 shots a game. "Michael has had his best season yet in high school he keeps us in every game. As a team we feel confident going into every game ered offense, the Warriors are backstopped by senior Michael Rosenberg, who has a record of (5-4-2) with a GAA of 4.18 and a save percentage of .860, while because we know we have Mike in net," said Warner.
A theme for the Warriors has been the lack of discipline late in games. On three separate occasions the Warriors took penalties that cost them points. In a game against Rockville, freshman Joey Doris and sophomore Matt Postorino took untimely penalties to put the Warriors down two men for over a minute with less than five minutes remaining. Rockville would score with 51 seconds left to win the game. In a game against Richard Montgomery, penalties once again doomed the Warriors. They took a 6-4 lead into the third, but surrendered two power play goals in less than three minutes en route to a 6-6 draw. In the regular season finale a week later, Rudnick took his team-leading, 58th and 59th PIM, which allowed Damascus to tie the game at 5 with less than seven minutes remaining. Damascus would win the game 7-5.
The Warriors will look to stay disciplined heading into the playoffs. The first round is against Richard Montgomery on Friday, February 10 at the Rockville Ice Rink at 9 p.m. They will need to do this without one of their leaders in Gordon, who has been suspended for three games because of fighting.