Rock 'n' Roll Revival Returns to the Stage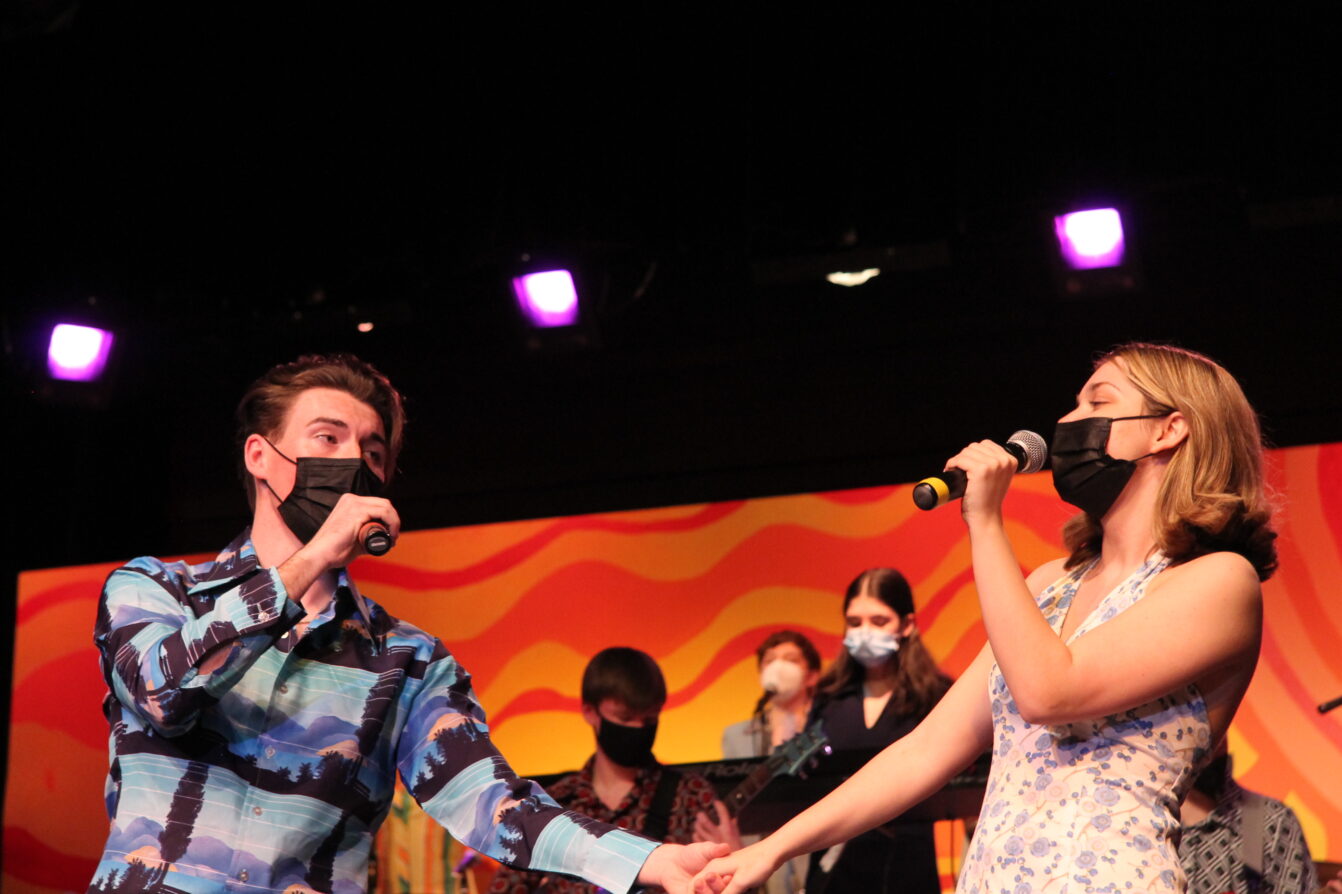 by Avery Prudenti '22
Whether it be on Broadway or at Sherwood, shining lights, loud bands, impressive dance numbers, and melodious singers are what audiences anticipate seeing at musical performances.
As the 50th year of Sherwood's annual show, this rendition of Rock 'n' Roll Revival was one for the books. The cast list was lengthy, and the song choices were spot on to fit the theme of "Timeless," which is really what this show is–timeless.
March 4 through March 6 was the first weekend of the show and the first time Sherwood's Rock 'n' Roll has been on stage for two years since MCPS schools closed right after the first week of performances in 2020. Last year, Rock 'n' Roll was held virtually, with far fewer singers and even fewer songs. This year's shows offered extra excitement as singers, dancers, and musicians took to the stage in front of a live audience again.
The show went on without a hitch the first weekend, quickly selling tickets for full capacity shows. After ticket sales opened on the website, almost all of the shows for the first and second weekend were sold out. Masks were still a requirement for the audience, as well as the singers and band members on stage, for the first weekend. Then, on March 8, the MCPS Board of Education voted to make masks optional, effective immediately. This allowed the singers and audience to enjoy the second weekend of the show without masks.
The energy in the air after the mask mandate ended was one that many haven't felt since before Covid-19. It allowed singers and dancers the opportunity to give the audience an even bigger performance than they did before. " I was really excited that we had the option to be mask-less for the final weekend, because seeing our faces really adds to the excitement and emotion of the performances," said senior Emily Scholl, a soloist for two numbers in this year's show.
For some, this show was the first time they have ever performed in front of an audience. Many seniors wanted to make the most of their time at Sherwood, especially after losing nearly two years of a typical high school experience. This was the case for senior Chris Major who sang "Turn Back the Hands of Time" by Tyrone Davis. In addition to this solo, he was also one of the dancers.
"The social interaction was a nice change of pace," said Major, "It's like we had our own little Rock 'n' Roll family, even if the dance practice for two hours daily combined with having to do song rehearsals sometimes was really draining." Major added that since it was his first time performing in front of an audience, it was a bit nerve-racking having to perform alongside those who have sung before or are pursuing music as a career. "I didn't want to mess up the show for everyone else, so that sort of motivated me to do better."
With almost 200 students participating in this year's shows and rehearsals every day for six weeks, the opportunity for students to get together and socialize is one that was needed by many after such a long time stuck at home.
"Knowing that this was my last time being able to perform in this show, and knowing there was always a chance shows could get canceled because of the pandemic, I have made it my goal in this process to soak up and enjoy every single minute of rehearsals and performances," said Scholl. "I really just want to make memories that I can look back upon and remember how happy I was."